Submitted by

Adult Services

on March 25, 2017 - 4:15pm
My great grandmother recently celebrated her 100th birthday. Yes, you read that right. She is 100 years old. Looks great, too. We were able to get six generations in one photo! She has done a lot in her long life and has a lot of wisdom to share.
Karsten Thormaehlen realized the incredible value in celebrating the long lives of people all over the world in Aging Gracefully:  Portraits of People Over 100. The pages are filled with the faces, words, and histories of men and women who have a century or more of life behind them. This is a beautifully uplifting book. Check out Ms. Henriette Rosa-Maria Cathala on page 30. She's my new hero. After my great-grandmother, of course.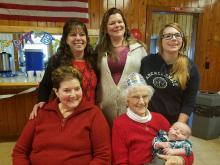 -Elisabeth