Submitted by

Teen Services

on March 8, 2017 - 9:00am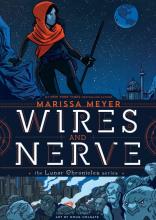 Dive back into the world of Cinder and her crew in Marissa Meyer's new graphic novel, Wires and Nerve. That's right. A Lunar Chronicles graphic novel! The story picks up several months after the end of Winter and mostly follows Iko, Cinder's best friend who happens to be an android. Iko's greatest wish is to be human. I mean, she does have a state-of-the-art escort droid body, but it still hurts when people assume she doesn't have original thoughts and feelings. Because she totally does. Heartless people call it a faulty personality chip, but Iko is the most human android around.
She's also a butt-kicking secret agent these days, tracking down the wolf-like super-soldiers that still terrify the citizens of Earth. But when someone starts organizing the soldiers, Iko has to rely on her friends, like Cress and Thorne and even Liam Kinney, for help.
If you can't get enough of the Lunar Chronicles, or enjoy reading graphic novels with strong female characters, then check this one out. And you thought you were done agonizing over the wait until the next Marissa Meyer book comes out. Think again.
-Elisabeth