Submitted by

Children's Services

on March 8, 2017 - 9:15am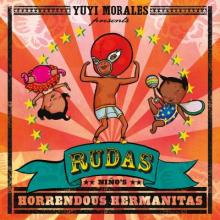 No one is spared by Las Hermanitas, the horrendous, the gassy, the rude, rude, rude hermanitas. Especially Niño, the phenomenal, the spectacular, the wrung-out older brother of Las Hermanitas. Niño has his status as wrestling champion challenged by Las Hermanitas, who use such wrestling moves as the Poopy Bomb Blowout and Tag Team Teething. They definitely are rudas, or rude; will Niño be able to defeat them? And if he does, is he willing to listen to the Hula-boo-hoo that they unleash? Can he find some way to stop them?
Rudas: Niño's Horrendous Hermanitas by Yuyi Morales, creator of Niño Wrestles the World, is fantastic for little readers who speak both English and Spanish. Whether your little one is a native Spanish speaker learning English or a native English speaker learning Spanish, this picture book is a playful and engaging read. In case you have trouble pronouncing the Spanish words, the inside covers have both the phonic spelling and English translation of the Spanish phrases that you'll encounter in the story. And if you have a wrestling fan, be prepared to read this one again and again and again!
-Elisabeth