Submitted by

Adult Services

on February 14, 2017 - 12:30pm
Feature documentaries can evoke strong feelings. Tower is a perfect example.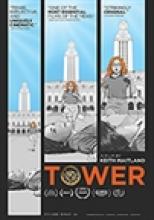 1966 provided a number of high points in my life. But the light-hearted summer of groovin' to the Beach Boys' Good Vibrations ended when Richard Speck, murderer of eight student nurses in south Chicago, and Texas sniper Charles Whitman created stunning national tragedies. I was about to enter college here at UIUC, and strongly related to the college-aged victims. Tower vividly recalled the events of that summer for me.
Tower uses a strikingly effective blend of live action animation, newsreel footage, and personal interviews to tell the story of the first mass school shooting. Charles Whitman took over the top of the tower at the University of Texas at Austin for 96 minutes, and opened fire on the campus. He killed 16 at random, and wounded dozens.
But Tower isn't Whitman's story. The documentary focuses on the stories of the victims, the responders, and the onlookers. I think that's one of the elements I appreciate most. The filmmakers do an excellent job reproducing the events and the terror of that day. They offer updates from those involved and let us hear first-hand how their lives were affected, and how they've moved on.
If you're looking for an intense film that captures a slice of American history, Tower may be an excellent choice for you to view. The film's trailer is posted below.
Tower is just one of many fine feature documentaries available at The Urbana Free Library. Come up to our second floor and browse. Or ask Adult Services staff to help you find different topics. You can reach us at the reference desk, or by phone (217-367-4405) or by email reference@urbanafree.org.
Tower
DVD / 364.1523 / TOW
mary wt