Submitted by

Children's Services

on January 28, 2017 - 1:09pm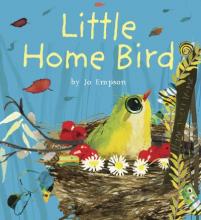 I cannot express to you how absolutely gorgeous Jo Empson's illustrations are in Little Home Bird. The images have a dreamy, watercolor vibe that your little reader (and you!) can get lost in. This picture book is also great for any little ones who will be moving or taking a long vacation. Little Bird is faced with his family's winter migration, but he's worried that he'll have to leave all his favorite things behind and that his new home won't really feel like home. Little Bird decides to bring all his favorite things with him on the journey south, but along the way, he finds that he has to leave some things behind. All the things he leaves behind are enjoyed by someone new, like a dog who plays with his favorite branch or a porcupine family who loves his favorite berries. Little Bird is happy that others can enjoy the things he also enjoys! And when he gets to his new home, he finds plenty of new things to make him feel at home.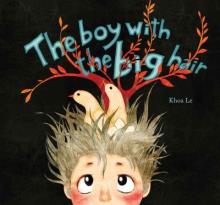 The Boy with the Big Hair by Khoa Le has a 3-D cover that will transfix your little reader before you even open the book! But the story is also engaging, especially if your little reader is facing a haircut that he or she might be worried about. Harry (nicknamed Hairy) learns what happens if you don't let anyone comb or cut your hair. Birds will build a nest and lay eggs in your hair. Then, if you get caught in the rain, a seed will sprout, and a tree will grow. When the baby birds grow up, they'll bring their mates to your tree and lay their eggs in your hair. Until you finally break down and ask Mom to help you out. Then she'll plant your tree in the backyard and give you a really awesome haircut. And you'll feel *so much* better. Like a great weight has been lifted from your head.
Elisabeth