Submitted by

Local History a...

on January 20, 2017 - 9:00am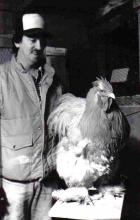 Bob Gilbert with a Rooster, printed in the News-Gazette April 10, 1985
January 28th is Chinese New Year, and it's the Year of the Rooster! 
Past Years of the Rooster were 1933, 1945, 1957, 1969, 1981, 1993, and 2005, and the next one will be 2029. People born in these years are thought to be hardworking, resourceful, and extroverted. 
This Saturday, the Children's Department at The Urbana Free Library is hosting a Chinese New Year Celebration, so bring your youngsters to learn about this international holiday.
-Sarah L., Archives Assistant