Submitted by

Children's Services

on January 7, 2017 - 4:32pm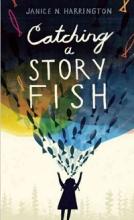 Winter makes me want to burrow under the covers with some hot chocolate and a good story.  With Catching a Storyfish, award-winning author (and former children's librarian) Janice Harrington delivers just that – a good story.  Free verse and concrete detail usher the reader into the world of a young girl named Keet.  This is a great read-alone book for grades 4-6 and a read-aloud for even younger.  I caught up with Janice recently to discover the story behind the story of Catching a Storyfish.   -Elaine B.
How did Storyfish start?  I'm wondering if it started with a conversation between Keet and Grandpa and grew from there?  Or did you have the idea for the whole story from the beginning?
Complicated.  Storyfish grew out of the ashes of old work spread over a decade.  By 2014, I had already made several previous attempts at writing a poetry collection for children.  Finally, I thought I had a collection of poems that told a story.  I presented the manuscript to my editor Rebecca Davis at WordSong.  I thought the manuscript was a "narrative collection."  But I was wrong.  It wasn't a strong collection, and it wasn't a verse novel.  So began the great adventure: writing my first verse novel.  There was no one poem that the book grew from.  The poems evolved by thinking about Keet and discovering her story.
How did you figure out how to write about Keet's experience in a new school?  Do you have strong memories of being Keet's age, or did your work in Youth Services inform your understanding of children?
Keet is an independent, separate person.  Our lives are very different and our stories are different, yet I borrowed from my life, memories, and imagination to tell her story.  We have some things in common.  When I say that Keet is a person, I mean it.  To me, she's real.
You have written longer works for adults, but this is the first time you have written a longer piece for children.  How was it to write a novel compared to your read-aloud picture books?
Challenging.  Infuriating.  Difficult.  Rewarding.
The sound of the language in Storyfish brings the reader right into the story.  Do you write from pictures in your head, or do you start with the sound of language in your head?
 Both.  But I try to "feel" my way into stories.  Once I know how my characters feel, then I can find my way.
When did you decide you wanted to be an author?
In sixth grade . . . In college . . . As a children's librarian  . . . I make a commitment to becoming a writer every time I sit down and try to find the threads of a story.  I decided to be a writer again just this morning around about 4:00.
For more on Janice, visit www.janiceharrington.com or check out one of her books to go with some hot chocolate and a cold day