Submitted by

Children's Services

on January 5, 2017 - 5:55pm
Do you have a whiner? Does the world always seem to be set against them, like when you make mac & cheese for dinner but they specifically said that they wanted spaghetti, and now they don't know if they can go on living?! The little penguin in Penguin Problems, by Jory John and Lane Smith, is a whiner. It's too cold or the sun is too bright or I look funny when I waddle or things keep trying to eat me…well, I suppose we could forgive whining about that, but you get the idea.
Penguin whines about his life until his new friend, Walrus, reminds him how beautiful his home is and how many people love him. Walrus points out that all creatures have problems, but Penguin probably wouldn't want to trade places with anyone else. A good lesson for everyone.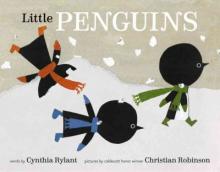 Little Penguins by Cynthia Rylant and Christian Robinson is great for very young readers. The story follows five little penguins who absolutely love snowy days. Winter is close, and three penguin siblings suit up to enjoy the snow. At the end of the day, they also enjoy getting warm and cozy at home while drinking some milk and eating some warm cookies. Robinson's illustrations are simple and adorable…how can you not say awww to penguins in matching boots, mittens, and scarves?
If you and your little reader love picture books about penguins, these titles are fantastic options for you! Both of these titles are great for little readers who don't like too many words on the page. But they both feature subtly gorgeous illustrations to keep an antsy reader engaged.
ep