Submitted by

Teen Services

on January 2, 2017 - 1:03pm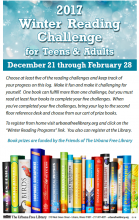 Lots of people create New Year's Resolutions in January.  And, I know you'll be shocked, but we suggest you think about taking part in the Library's Winter Reading Challenge as part of your resolution.  It started on December 21st and a couple people have already finished it!  It lasts until February 28th.
The challenge isn't too hard. Basically there are 20 catagories.  Like read everyday for a week, read a comic, read something with a character that has your name, or read a book that was translated (*cough*MANGA*cough*).  Things like that.  Read books and fullfill 5 of the categories to complete the challenge!  Our only rule is that you can't read one or two books that fulfill all categories and call it a day.  You need to read at least 4 different books. 
If that sounds too easy, get friends to try it with you and race to see who can complete the challenge first! 
You can either print out a copy of the challenge form here, or pick one up at the Library on the first and second floor.
For those who aren't sure what to read, here is a list of the newest books out in YA right now.  Or come in to the Library and we'll be happy to give you a suggestion or three or four (Seriously, we love this question.  It may be our favorite.  Don't tell anybody but we're book nerds).
Happy reading!
Lauren C.