Submitted by

Adult Services

on December 21, 2016 - 10:25am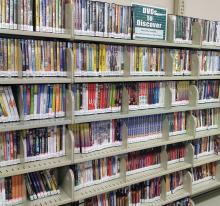 Start out 2017 by enhancing your DVD passion. If you're a fan of our DVD collection, you've already browsed the feature motion pictures, TV shows, anime, and music films on the first floor. Come on up to the second floor and discover the vast array of nonfiction films available for you to check out.
Our library offers travelogues, painting tips, how-tos, childbirth overviews, wrestling/martial arts matches, nature films, and much more. Feature documentaries are a special highlight of the collection, from the quirky to the serious. Learn more about various issues through film, such as food/responsible eating, LGBTQ life and concerns, immigration, and politics. Feel like taking a course? Check out one of the many Great Courses available, such as The Joy of Mathematics, or How to Listen and Understand Great Music.
Interested? Here's a taste of one of our nonfiction films--the trailer from The Hunt, a BBC series which explores the fascinating relationship between animal hunters and their prey.
The Hunt
2016
DVD /  591.53 / HUN
These films are all searchable in our catalog by subject. Need help finding a film? Ask the Adult Services staff. We'll be happy to help.  reference@urbanafree.org or call,   217-367-4405
There are enough engaging nonfiction films in the second floor collection that you could watch a different one every day of 2017—and want to watch even more. Make your resolution now!
mary wt