Submitted by

Local History a...

on December 20, 2016 - 6:01pm
In 1870, 18-year-old Albert Eisner immigrated to the United States from his home in Hungary. Upon his arrival in New York City, he was robbed of his last $20, and so he began work, first at a tailor's shop and eventually at a dry goods store. During the next 45 years of his life, he would make his way west, settling finally in Champaign, Illinois, where he would launch the multi-generational business that would become one of the largest food sellers in central Illinois.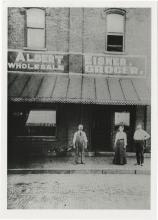 Photograph of Eisner Wholesale Grocer
Eisner's introduction to the business was as a travelling salesman for wholesale grocers out of Iowa, Chicago, and locally at his brother-in-law's outfit, Henry, Kariher & Co. By 1898, Eisner decided to embark on his own wholesale operation, and operated Eisner and Co. Wholesale Grocers on the corner of Market and University. It became the largest wholesale grocery company in Champaign. In 1915, he decided to diversify, purchasing and operating the retail Basket Grocery Stores in Clinton, Lincoln, and Danville, IL.
An itemized receipt from Roy Hunt Grocery, left. Interior of an Urbana grocery store (likely B.F. Stevenson), right.
Perhaps Eisner, by now a forty-year veteran of the grocery industry, understood the coming change in how people shopped for their food. Until that time, grocery shopping was a rather formal affair: the purchaser (usually the lady of the house) would send her order to the grocer by hand-delivered note or telephone. The store clerk would prepare her order and arrange for pick-up or delivery. But by 1916, the industry was changing. In that year, Clarence Saunders introduced his Piggly Wiggly stores, a chain of "self-service markets," which introduced the innovations of open shelving, shopping baskets, individual item pricing, and check-out stands. Saunders quickly patented these features and then licensed the operations to franchisees; Eisner bought into this franchise in 1919.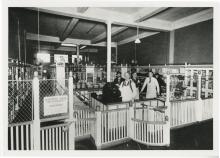 Interior of Piggly Wiggly, ca. 1930
By the time of his death in 1926, Eisner presided over a growing business empire and had contributed to many community projects and philanthropic organizations. He was a founding member of the Mt. Sinai Temple of Champaign and served as president of both Burnham Hospital's Board of Directors and the Rotary Club. He helped established a Community Chest fund and the United Charities of Champaign and Urbana. His obituary observed: "He trudged, on one occasion, through slush and ice for an entire week, assisting in the collection of funds for the organization, this at an age when most persons would have felt that if they did their financial part, that would be all that could be expected."
Upon his father's death, Albert Eisner, Jr. took over operations of the company, and his two brothers joined him as salesmen for the wholesale operations. In 1928, the first Piggly Wiggly opened on Neil Street in downtown Champaign, and business grew swiftly. By 1939, they had built a large store on West Church Street in Champaign (the space most recently occupied by Nitaya Thai.) The company severed ties with Piggly Wiggly in 1952, and assumed the name Eisner Food Store for all of its locations. It was under this name that the company flourished. Although bought by Jewel Tea Company in 1957 and run as a subsidiary company, operations continued under Albert Eisner, Jr. Eisner Grocery, a wholesale distributor of foodstuffs, was formed in 1962, and it included a bakery, beef- and poultry-houses, and egg grading plant to supply 62 stores in the mid-Illinois and Indiana region. In 1965, the company heralded a new era by opening central Illinois's largest supermarket located at Lincoln Square Mall.

Architect's rendering of a new Eisner's location,  ca.1961
By the mid-1980s, Jewel-Osco began rebranding the existing stores under the parent company's name. However, the firm, based in Chicago, was being pushed out of central Illinois by nationwide retailers Super Kmart and Meijer, and smaller grocery firms, like Schnuck's, County Market, and IGA.
The final Jewel store closed locally in 1998, and brought to an end the era of Eisner's professional association with Champaign-Urbana.
For more information about local grocery stores of yesteryear, check out our new online photo album Yesterday's Grocers, which features photographs of stores from the early- to mid-twentieth century.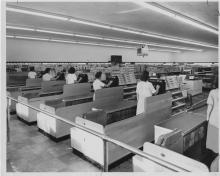 Checkout lanes at Urbana Kroger, 1949
-Sarah L., Archives Assistant