Submitted by

Adult Services

on September 27, 2016 - 9:00am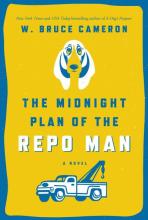 All a man needs in life is a good truck, a loyal dog, and the voice of a murdered real estate agent in his head. This is the life of Ruddy McCann, repo man. Ruddy's life has been a disappointment to his small town of Kalkaska, Michigan. He was on his way to a promising NFL career when a devastating accident sent him to prison. Nearly 10 years later, he steals cars for a living. Though he is quite good at it.
Then he "meets" Allen Lottner, as in one day Allen's voice enters his head and won't, maybe can't, leave. The night before Ruddy begins hearing Allen's voice, he dreams of Allen's murder in the back woods of Michigan. Ruddy, a cranky teddy bear with a heart of gold, tries to investigate the murder, even though he can't be positive that he isn't just losing his mind. In his hunt for justice, he runs afoul of the local police and also runs afoul of Allen when he spends too much time with Allen's daughter, Katie.
Being the confrontational kind of guy that he is, Ruddy also has his hands full dealing with the shady businessman threatening his sister's business; the bank owner's wife harassing his best friend; the inept nephew of his boss, who is trying to learn the repo business; Allen's discovery that he can occasionally control Ruddy's body; and Allen's two murderers. Just another day in the life of a small-town repo man.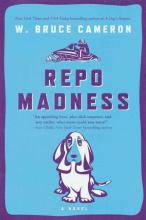 I listened to W. Bruce Cameron's two novels of Ruddy McCann, The Midnight Plan of the Repo Man and Repo Madness, on audiobook. I accidently listened to the second novel, Repo Madness, first, and I actually liked the nonlinear approach to the story of Ruddy McCann. Plus, I enjoyed the reader, R.C. Bray (the same reader who performed The Martian), much more than the reader of the first novel, George K. Wilson (who is over 60-years-old while Ruddy is only 30). I highly recommend these hilarious novels, whether you prefer print books, ebooks, or audiobooks. There's even a prequel available in ebook format only!
ep