Submitted by

Teen Services

on August 24, 2016 - 11:35am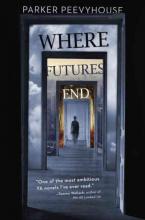 100 years.  Five stories.  2 connected worlds.  Allies or enemies?
Dylan discovers the Other Place as a child and keeps trying to go back there, angered and mystified that no one else can sense the other world as his real life spirals out of control. 
Brixney needs to earn enough viewers on her feed to keep her and her brother out of debtor's prison and the cute, sad boy with a notebook full of stories about another world, the Other Place, and an ethereal air may just be her ticket. 
Epony and her rocker boyfriend go "high-concept" to create a quasi-reality show as star crossed lovers from different worlds based on famous stories about the Other Place, while at the same time the Other Place announces a plan to help Earth's global warming. 
Reef is a master at the VR game for humans humans who lack the ability to travel to the Other Place, and who can't escape an environmentally drained and politically contentious Earth. 
Quinn's people travel through a land ravaged by nuclear war, where strange places and objects appear and disappear on a regular schedule.  When she meets a boy by himself out in waste her choice can both save and destroy everyone.
Sci-fi and fantasy come together to explore a future Earth where hope can be as deadly as bullet, legends lie, and the truth is the most devastating thing of all.  Every character wraps themselves up in their own imagined narrative of what they want the Other Place to be and how they want it to help them.  Everybody has a certain vision of what their life is like and when reality crashes in the consequences can be devastating or uplifting.  Where Futures End starts telling us a story we all know about a helpful other race that has all our answers and can take us to a place of adventure where nothing ever hurts again.  And then it systematically strips away those illusions until your left with a startling conclusion.  I wouldn't call this book dark.  It's not about tearing your heart out or making you sad.  It's more of an exploration, and even though the premise is unreal, everything feels realistic.  Characters motivations and actions, especially their mess-ups, feel true. 
If you're tired of Lord of the Rings type fantasy or grungy, gritty sci-fi, but don't want puppies and kittens then try this.  It's a fast read and the stories are short enough that you'll race through them.
Lauren C.