Submitted by

Teen Services

on July 27, 2016 - 12:30pm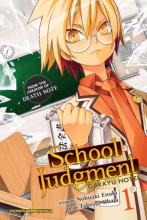 Student run arbitration in schools is nothing new.  But what if students didn't just listen to problems and suggest solutions?  What if they took each other to trial?  And acted as lawyers, and had preschooler judges (because they'll just say whatever comes into their heads and are harder to bribe).
That's what happens in School Judgement by Nobuaki Enoki and art by Takeshi Obata (aka the artist for Death Note and Bakuman).  For fear of corruption and bias, schools institute a new policy that lets students police and pass judgement on themselves.  When a beloved classroom fish is found horribly mutilated, two grade school lawyers are brought in for the trial.  The prosecutor is a bubbly popular girl who's instantly popular with the boys.  While the defense attorney is... different.  He introduces himself by winning an argument (or ronpa as he calls it) with the teacher.  Abaku Inugami is argumentative and abrasive.  He's either a mad genius or just plain mad.  But either way the defendant is relying on him.  He might also be from the prison-like school where they very worst offenders get "transferred."
School Judgement just wants the reader to have a good time.  It's part Sherlock Holmes, part Phoenix Wright.  Each chapter introduces and then solves a different trail as you slowly get to know the grade school students better and start to see just what can drive them to committ different crimes.  Love, fear, jealousy, the desire to protect someone.  It's all there.  The real fun is seeing if you can catch the clues and figure out who did it and why before Inugami reveals all.
As a side note, if you read the entire series, the mangaka describes how the manga evolved and how reader and editor feedback influenced everything from character design to which character got a bigger plot line.  It's a fascinating look into how and why a serialized manga evolves.
Lauren C.