Submitted by

Teen Services

on June 26, 2016 - 12:00pm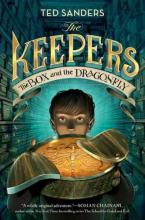 Local author Ted Sanders has created an amazing world filled with science so advanced that it seems like magic. The Keepers series is set in a world where time travel and walking through walls are possible with the right tools. Horace F. Andrews is new to this world, but his scientific curiosity won't let him walk away from it. Even if it's filled with dangers, like Dr. Jericho, a human-like creature who smells of sulfur.
Horace is an awkward middle schooler, big for his age and without many friends. On one bus ride home from school, Horace sees his full name on a sign outside a building. On a whim, he decides to investigate. He finds a building called The House of Answers, which stirs up more questions than anything else. Something about the place calls to him, even though Dr. Jericho stalks him whenever Horace gets near.
After a few visits, Horace discovers a box. A box that he knows immediately was meant for him and no one else. The strange people who work in the House of Answers allow him to take the box home, with instructions to discover all that it can do. But the power of the box makes him an even bigger target to those like Dr. Jericho.
Along the way, he meets Chloe, an impulsive and stubborn girl with a dragonfly necklace that also has amazing powers. They become friends as they are sucked into an ancient war. As they learn more about the history of their objects, Horace and Chloe have to decide if they are willing to fight in this war…and what they're willing to give up if they do.
Don't let the fact that The Box and the Dragonfly is in the Children's Department keep you from reading it. Remember:  some pretty awesome series like Harry Potter and Skulduggery Pleasant are also in the Children's Department. Not only is this book filled with action and adventure and time travel, reading it would get you halfway to your 1000 pages in the Summer Reading Program! You can't beat that with a stick!
ep