Submitted by

Teen Services

on June 12, 2016 - 12:00pm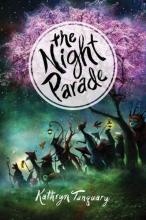 Love Japanese culture? Of course you do, why did I even ask…let's start again.
So, I know you love Japanese culture. What I don't know is why you haven't read The Night Parade by Kathryn Tanquary*. Let me tell you what you're missing:
Saki is a typical young teen from Tokyo. She is attached to her cell phone, tries to avoid the wrath of the leader of her clique, and *hates* going to her grandma's house in a tiny village near the woods (with no cell reception!) in order to celebrate Obon. Her grandfather used to run the Buddhist temple where people come once a year to honor their ancestors. Since he died, the temple has been neglected.
Trouble starts when Saki cuts some corners during preparation for the Obon festival. It really hits the fan when she lets the local kids talk her into playing Kokurri-san, a ouija board type game, in the temple's cemetery. She accidently opens herself up to the spirit world and invokes a death curse.
A different spirit comes to her each night to guide her through the Night Parade. Saki only has three nights to break the curse and, curse or no curse, surviving the Night Parade might be impossible.
ep
*And why would you read a book set in Japan with Japanese characters that was written by a gaijin? Well, Ms. Tanquary currently lives in Tokyo and taught in a Japanese middle school for years, so she knows her stuff.