Submitted by

Local History a...

on May 26, 2016 - 11:59am
Anyone seen an alligator? Back in 1898, L.A. Wahl's 6 foot pet alligator went on a walkabout. (And you thought urban chickens were a neighborhood nuisance).
Champaign Daily News, June 10, 1898
Don't worry. He was found 6 days later in the Boneyard branch between the Big Four and Wabash railroads, and although he didn't leave without some resistance he was returned safely to his home on West Main in Urbana.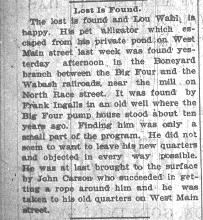 Champaign Daily News, June 15, 1898
- Sherrie, Archives Librarian