Submitted by

Adult Services

on May 15, 2016 - 2:02pm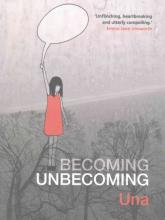 I recently read two excellent new graphic memoirs that combine text and striking artwork to depict the authors' lives as young girls. 
Becoming Unbecoming by Una explores the conflicting messages that she received about sexuality and gender growing up in late-70s Yorkshire, when the serial killer known as the "Yorkshire Ripper" was preying on women in her hometown. While the news media and the police focused their attention on the Ripper's victims and whether or not they had worked as prostitutes, 12-year old Una herself becomes the victim of violence and exploitation. Her inventive illustrations combine sequential panels, sketches, statistics, and collage to powerful effect. It's a heartbreaking look at one young girl's experience, but also serves as a searing indictment of the ways sexual violence, victim blaming, and shame harm women and society. 
Evie Wyld's Everything is Teeth takes us back to her childhood in coastal Australia, where she developed a fascination with sharks that became an almost obsessive fear. Her family spends the school year in England but in the summer they live by the sea in Australia, spending much of their time in or on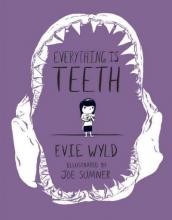 the ocean. Evie becomes captivated by tales of shark attacks, reading tales by survivors and watching the ocean for fins. Childhood can be an anxious time, with so many things that children can sense but not quite understand, and for Evie these disparate anxieties and family issues all seem to feed into her fear of sharks. The mostly black and white illustrations by Joe Sumner perfectly depict the melding of childhood imagination and fear, with menacing sharks drifting in and out of scenes of Evie and her family life.
If you are memoir fan who has yet to jump into graphic novels, or a graphic novel fan looking to expand into non-fiction, both of these titles are great examples of the storytelling power of graphic memoirs.