Submitted by

Teen Services

on April 20, 2016 - 12:30pm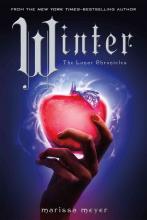 Queen Levana is so close to her goal of marrying Emperor Kai and taking over Earth.  So far she's had Cinder and her allies on the run and the Earthen Alliance has been forced to bend to her wishes.  Her victory seems inevitable.  But Cinder is tired of running.  She's going to make a last stand at the place Levana would least expect; the Lunar kingdom on the moon.  That's right she's taking the fight directly to Levana.  And the queen hasn't anticipated that her step-daughter, Winter, whose refusal to use her Lunar mind-controlling power is slowly driving her insane, may not be quite as insane as she seems.  Or might be just insane enough to believe that she can help Cinder, and together they can finally take down Levana and free both the moon and the Earth from her reign.
If you've looked at this blog, you know how gaga we all are over this series.  The conclusion, Winter, doesn't disappoint.  Want to know who lives and who dies? If Cinder gets her rightful throne and if Iko gets the robot body she's always dreamed of?  Well, you'll have to read it yourself cause I'm not spoiling anything (so there).  Which is really hard to do because I'm dying to talk about every nuance of this book.  Every plot twist and action sequence.  Every OTP and heartache.  And there is a lot of everything.  Marissa Meyer doesn't pull any punches with the series' ender.  All I'll say is that if you've loved this series so far, the end doesn't disappoint.  And if you've never heard of the Lunar Chronicles, I'm a little jealous because now you get it read it from the beginning for the first time and it is fantastic.  I could fangirl some more, but I think I'll leave this here.  Cyborg Cinderella has never been so cool.
(P.S. If you're going through denial because the series is now over.  There's a short story collection, Stars Above, that just came out.  Rumor has it that one of the stories takes place after Winter and there might be a wedding.  Just saying.)
Lauren C.