Submitted by

Teen Services

on March 6, 2016 - 12:45pm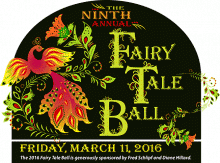 If you've hung out at the Library lately, or looked at our website, or checked out our wall on Facebook, you know that the Library is hosting a Fairy Tale Ball on Friday, March 11 from 6 to 9 p.m. You might have brushed off this knowledge as something silly for kids, and you might have no intention of attending. You are making a big mistake! The Fairy Tale Ball can be fun for teens, too!
"I ain't dressing up as no Disney Princess," you might say with your charmingly terrible grammar. "Why you think you got to dress up like some boring, old Disney Princess?" I'll reply in my terrible attempt at sounding fifteen years younger than I am (30 ISN'T OLD).
Think about some of the awesome young adult books you've read that put a twist on boring, old fairy tales. Books like Cinder. Or Towering. Or Alice in Zombieland. Or The Land of Stories. Or Dorothy Must Die (my personal favorite). Now think how fun it would be to make a costume for one of those characters. No one says you can't be a cyborg Cinderella. Or a half-zombie Alice in Wonderland. Or a sword-wielding Red Riding Hood.
It's true that there will be a lot of things geared toward younger kids, but there will be plenty for you and your friends to do! You can have your future read by our real, live fortune teller. You can play flamingo croquet through the first floor stacks. You can dance with the English Country Dancers. And the circulation desk will be open, so you can check things out. The café will also be open so you can have snacks. My *favorite* thing to do is to people watch. There are so many kids and adults dressed up! It's fun just to walk around the Library and take in all the costumes. And of course to get some envious stares because of your awesome costume.
ep