Submitted by

Teen Services

on January 27, 2016 - 12:30pm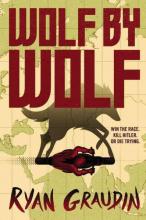 Hitler and the Axis powers have won.  Years later they celebrate with an annual motorcycle race from Germania to Tokyo.  But this year is different.  The previous year's winner, Adele Wolfe, is racing or is she?  She looks like Adele Wolfe and sounds like her, but Yael is not Adele.  Given skinshifting powers in an experiment in a Nazi death camp, Yael has one goal.  Win the race.  Attend the victory ball when the reclusive Hitler will appear.  Kill Hitler on TV and spark the resistance into war.  Yael is the first step in the resistance's plan to defeat the Third Reich.  She has trained for years.  Can kill in numerous ways.  Knows many languages.  And can take the appearance of any female she sees.  But even after studying Adele, Yael and the resistance are not prepared for the relationship Adele had with fellow racer Luka, and Adele's twin Felix.  She'll have to fool and beat them both to win and kill Hitler.  Following with her are her memories of the people in her life who've made her what she is and the people she's left.  each remembered wolf riding beside her as she tries to make history.
Like Hunger Games?  Then try this.  There's the a contest with the world watching and killing the participants is allowed (as long as it's off camera).  The danger is off the page and you can't help rooting for Yael, even when she has to awful things to keep ahead of the other racers.  The stakes are high and Yael feels every bit of it.
LC