Submitted by

Local History a...

on January 12, 2016 - 8:45am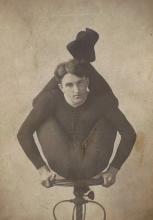 Walter C. Glines was the well-known proprietor of Gline's Penny Store in Champaign, which he opened during World War I and managed until his retirement in 1956. However, before moving to Champaign and becoming a business owner, Mr. Glines had a successful career as a circus performer.
His May 15th, 1966 obituary states:
"Mr. Glines got his start at the Big Top in 1909 with Ringling Bros. as a contortionist and trapeze artist. He also followed the vaudeville circuit in the Middlewest, performing his contortion act with the aid of a single trapeze. He worked out of Chicago, Atlanta, and Kansas City.
Following his marriage in 1911, he used his high school education to get a bookkeeping job in Centrailia, but soon went back to the Vaudeville circuit, taking his wife along this time."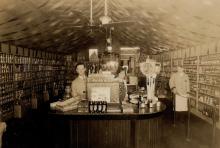 By 1914, Mr. and Mrs. Glines had settled in Champaign and became the managers of Penny Grocery Store, 103 S. Neil Street, Champaign. During World War I, Mr. and Mrs. Glines took the opportunity to open their own grocery store, Gline's Penny Grocery, 111 S. Neil Street, Champaign, which is purported to be the first cash grocery store in the Champaign-Urbana area.
In his later years, Glines performed as "Koko the Clown" and was well known in the Champaign-Urbana area, making appearances at ice cream companies, store openings, open houses, and the county fair. He continued to perform well into his seventies and claimed to retain his ability to perform the contortion act, which he had learned as a six-year-old boy. 
-Donica, Archives Librarian