Submitted by

Teen Services

on December 20, 2015 - 12:45pm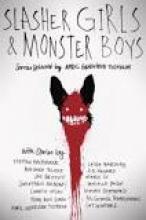 Love horror stories? Ones full of ghosts and zombies and serial killers and blood rituals and all that good stuff? Well, I have good news for you:  Slasher Girls & Monster Boys is chock-full of 14 scary stories by authors like Marie Lu, Kendare Blake, Jonathan Maberry, and Danielle Paige!
A few of my favorites were "In the Forest Dark and Deep" by Carrie Ryan, a story inspired by Alice in Wonderland with one wicked White Rabbit, "Emmeline" by Cat Winters, a WWI story with a very needy (and naughty) French ghost, and "On the I-5" by Kendare Blake, a story featuring a vampire vigilante who has a pressing date with a dead girl in a dumpster.
These stories plus more make this new book a creepy good time!
EP
P.S. Curous about the title of this blog post? The editor of the book, April Genevieve Tucholke, dedicated the collection "[f]or everyone who read Stephen King when they were way too young."