Submitted by

Teen Services

on December 6, 2015 - 12:30pm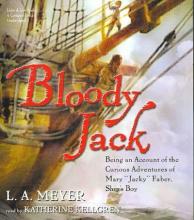 If you have never listened to an audiobook, there is something missing from your life. A good audiobook, especially one with a great voice actor, can be even better than reading the book yourself! Get motion sickness and can't read on long trips? Audiobook. Have a mountain of dishes to wash but get bored easily? Audiobook. Long walk to school and tired of all your old music? Audiobook.
Whether you're listening to a book on disc for the first time or you're an audiobook connoisseur…I have a great suggestion for you. Listen to Bloody Jack:  Being an Account of the Curious Adventures of Mary "Jacky" Faber, Ship Boy written by L.A. Meyer and read by the amazingly talented Katherine Kellgren. The book follows Mary, later known as Jacky, from the streets of London to a ship in the King's Navy.
Mary's life has been hard since her parents and sister died of the plague, and she was tossed onto the streets to fend for herself. She is adopted into a street gang and begs, steals, and performs to get by. But when tragedy strikes again, she decides that it's time to move on to bigger and better things. She cuts her hair, dresses as a boy and calls herself Jacky. And when the naval ship, the HMS Dolphin, is looking for ship's boys before heading off to hunt down pirates, Jacky joins the throng of boys trying to be taken on. Jacky has a secret talent that none of the other street kids have…she can read. Her father taught her before he died, and that talent gets her aboard the HMS Dolphin along with a few other boys.
Jacky's life has never been better:  she gets fed regularly, enjoys her position and makes friends with the crew. But it isn't all easy. There's Midshipman Bliffil, an entitled bully, who beats Jacky and anyone else he doesn't like. And then there's crewman Sloat, a major creeper. The hardest part of her new life is hiding the fact that she's a girl, especially when she starts to crush on Jaimy, another ship's boy.
Even if you read the book instead of listen, there's so much here to enjoy. Danger and adventure, friendship and romance, humor and tragedy. It's all here! And it's a series, so you won't have to stop at just one adventure with Bloody Jack.
EP