Submitted by

Teen Services

on November 18, 2015 - 8:46pm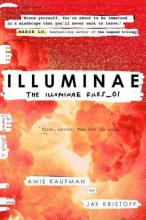 Illuminae by Amie Kaufman and Jay Kristoff
I want you to imagine Firefly meets Walking Dead, throw in some humor and drama and a psycho AI that controls the ship you're on, and you might start to get this book.  I'm not going to lie to you; I'll tell you up front that this book is HUGE.  We're talking nearly 600 pages massive.  But it is worth every page.  Its got horror, action, romance, and a whole lot of scifi.
It starts with bang.  Kady and Ezra have just broken up and are trying to make it through classes when an enemy corporation's battleships attack their world and force the colonists to flee.  While they survive the attack, the two are stuck on separate ships in a small fleet with an enemy warship close behind.  Their only hope is to outrun the ships and make it to the nearest friendly base.  But the battleship that Ezra is on has been damaged, and its AI is malfunctioning and starts having strange notions about what it means to protect its human passengers.  Kady on the other hand starts hearing a stange rumors about a virus on the third ship in their fleet.  Rumors that the captains are willing to kill to silence.  With death on their trail and maybe in the very ships that are keeping them alive, Kady and Ezra have to get over their breakup and work together to create a plan that will keep them and everyone else alive.
Okay, so my description may not sound like much, but I don't want to spoil things  (wait till you meet the AI, AIDAN.  "Am I not merciful" never sounded so creepy.).  Illuminae is like no scifi out there right now.  If you flip through the pages, you'll see pictures of ship scematics, lines of broken code, and pages of text that closely resemble that day in class when you had to make an actual picture out of lines of poetry (but in a cool way).  The story's told through instant messages, transcripts, and reports.  And yet, all these crazy things go together to make a story that I couldn't put down.  The book may be big but it reads fast.
Lauren