Submitted by

Adult Services

on September 12, 2015 - 10:03am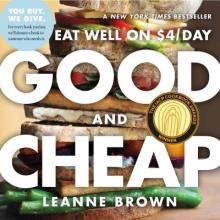 Can you imagine spending $4.00 per person, per day, on food? For a person on SNAP (Supplemental Nutrition Assistance Program), it's their reality.  The formulas are complicated for determining how many benefits each household receives, but the general estimate is $4.00 per person, per day for the food spending allowance.
To help the countless individuals living on SNAP (formerly known as food stamps), Leanne Brown created Good and Cheap: Eat Well on $4/Day. This book is more than just a cookbook, but a resource showing what ingredients to purchase and how to stretch every cent in order to eat delicious dishes and stay on a budget.
The countless recipes cover a broad range of options for every meal, along with snacks, appetizers, drinks, and dessert. From Asian Noodles to Hummus, Savory Summer Cobbler to Smoothies, you're guaranteed to find delicious foods to enjoy, all while keeping costs affordable for everyone.
-Amber