Submitted by

Teen Services

on June 22, 2015 - 10:39am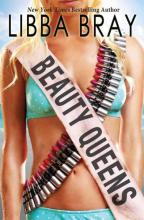 You think you know what you're in for when you pick up a book called Beauty Queens, a book that is about a bunch of pageant girls on their way to compete in the Miss Teen Dream Pageant. Okay, so it starts with a plane crash, which may *not* be what you would expect, but, once you factor in the plane crash, you think you know exactly what's coming next…a Lord of the Flies descent into hair pulling and backstabbing and name calling.
Oh, you are so wrong. It's okay, though, because who would expect secret agencies that hide explosives in jars of Lady 'Stache Off and eccentric dictators of the Republic of ChaCha whose most trusted advisor is a stuffed lemur? Or transgender, former-boy-band-member beauty queens and beauty queens who are juvenile delinquent lesbians?
I cannot express to you how completely and utterly hilarious Libba Bray's book is. I mean, you'll laugh out loud. You'll snort in the most unladylike way. You might even pee a little. It's that funny.
EP