Submitted by

Teen Services

on June 10, 2015 - 10:49am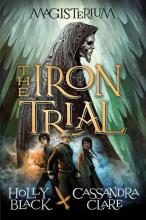 "Make your mind totally blank."  That's the advice that Callum Hunt's father gives him before he goes to take his Iron Trial—a test to determine whether or not Call will attend school at the Magisterium and become a magician.  While most people would desperately want to pass the Iron Trial, Call and his father are trying to keep Call away from magic at all costs.    Magic is what destroyed his father's world twelve years ago; magic is what crippled one of Call's legs; magic is what killed his mother.
However, Call fails…at failing.  Somehow he passes the trial and is now an apprentice.  At the Magisterium, Call starts to learn how to control his magic, but also how he plays a key role in the mages' fight between the Magisterium and the Enemy of Death. 
Holly Black and Cassandra Clare should be familiar names by now.  Holly Black is the co-author of the best-selling series The Spiderwick Chronicles, while Cassandra Clare is the author of the best-selling series The Mortal Instruments and The Infernal Devices.  The Iron Trial is book one of the Magisterium series.  Book two, The Copper Gauntlet, is set for a September 2015 release date.
-Lydia