Submitted by

Teen Services

on June 1, 2015 - 11:00am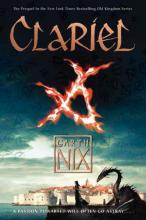 Clariel is less than excited to move from the open forests of her home town to the Old Kingdom's capital—Belisaere.  Yet here she is, forced by her parents to navigate the social circles of Belisaere's higher society.  Clariel's new peers don't know what to do with a girl that detests observing all of their petty rules and customs.
She dreams of escaping her parents' stranglehold, and when a dangerous opportunity arises to do just that she throws all caution to the wind to seize her freedom.  However, Clariel isn't a common teenager. Not only is the Abhorsen her grandfather, but the King is her mother's cousin.  Whether she wants to be or not, Clariel is a powerful player in a kingdom where everyone is trying to seize control—by any means possible.
As she moves to secure a future of her own making, Clariel must make decisions that might very well have serious and deadly repercussions.
Clariel is a delightful return to Garth Nix's Old Kingdom first presented in the Abhorsen trilogy.  While Clariel is a prequel to the trilogy, nothing is lost by reading the trilogy first.  
-Lydia