Submitted by

Teen Services

on April 28, 2015 - 12:34pm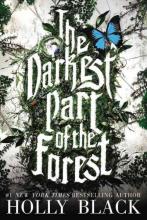 Stop by Fairfold for a visit, and check out the town rumored to be surrounded by Fae. The faeries' magic attracts tourists, but beware—the fae might have a deal to not harm the townsfolk, but that rule doesn't apply to you.
These faeries are dangerous. Only enter The Darkest Part of the Forest if you dare, because this isn't your average fairy tale.
The Darkest Part of the Forest is Holly Black's newest YA book. Her other popular books include The Iron Trial, The Coldest Girl in Coldtown, and the Spiderwick Chronicles (with Tony DiTerlizzi).
-Amber