Submitted by

Teen Services

on January 4, 2015 - 4:07pm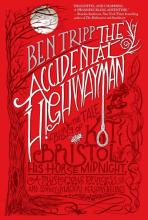 "'I'm Kit,'" said I. 'Christopher Bristol, indentured servant to Master James Rattle, and before that indentured to Fortescue Trombonio, impresario. Why I'm dressed like this and how I came to be tangled in this business with the Princess I can hardly explain, for I hardly understand it. That's my entire story. Now, what is yours?'"
At this point in the story, Kit is speaking to a fairy the size of his hand. He is dressed as a highwayman (which is someone who attacks carriages and travelers in order to rob them) and riding a black stallion named Midnight. He has just fallen out of a tree and onto the top of a carriage, and, in the confusion of tossing him off the carriage, the drivers allowed the prisoner inside to escape. Kit has just learned that the prisoner was, in fact, a fairy princess who was being married off to British royalty against her will.
Kit's life as an indentured servant (someone who has sold his- or herself into slavery for a set period of time) to Master James Rattle wasn't a bad one. A little boring, considering that he used to travel the country with a circus. But he had regular meals and a kind master, more than he was used to.
But his simple life got a lot more complicated when he discovers that his master is an infamous highwayman called Whistling Jack, who is pursued not only by an obsessed military officer but also the other highwayman in the area. Kit tries to throw them all off his master's trail by assuming his master's costume and riding out. But Kit is soon over his head, not only in worldly problems, but in a world of witches and trolls and magic that he never knew existed.
Follow Kit on his adventure by reading The Accidental Highway Man: Being the Tale of Kit Bristol, His Horse Midnight, a Mysterious Princess, and Sundry Magical Persons Besides by Ben Tripp.
EP