Submitted by

Adult Services

on November 24, 2014 - 4:27pm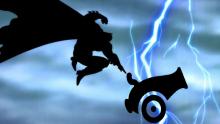 Did you enjoy the Dark Knight movies?  Feel like dipping your toe into the world of batman comics but don't know where to begin?  Then this short list is for you!  The comics mentioned below are some of the best Batman comics which have, more or less, become canon.
Batman:  Year One
by Frank Miller
741.5973 BATMAN
Frank Miller completely revamped Batman in this definitive origin story.    Prior to Year One, Batman was often campy and a little goofy.  Post Frank Miller's origin story, Batman's character was transformed into a gritty, brooding, revenge fueled champion of Gotham.
Batman:  The Long Halloween
by Jeph Loeb
741.5973 BATMAN
"The Freaks" like Two Face and the Joker didn't always run the Gotham underworld.  Before the Freaks, Gotham was run by gangsters lead Carmine Falcone.  The Long Halloween tells the story of the fall of the mafia in Gotham, and the subsequent rise of the Freaks.
Catwoman:  When in Rome
by Jeph Loeb
CPL Teen Section CATWOMAN
After reading "The Long Halloween," one might have a question or two about what happened to certain characters in certain gaps of time.  "When in Rome" follows Catwoman and fills in these gaps from her perspective.
Batman:  The Man Who Laughs (not in the system)
by Ed Brubaker and Doug Mahnke
The Man Who Laughs tells the story of Batman's first encounter with the Joker.  Where continuity is concerned, The Man Who Laughs follows Frank Miller's Batman Year One.  However, one need not read this one in order.  The story is self-contained, and can be read and understood just as easily without ever having read Year One.
The Killing Joke
by Alan Moore
741.5973 BATMAN
The Killing Joke is considered to be the Joker story by many a Batman aficionado.  Without giving too much away, this comic is very important for laying the foundation for new, pivotal characters in the Batman universe.   
Batman:  The Dark Knight Returns
by Frank Miller
741.5973 BATMAN
What happens when a super-hero ages out?  Can he ever stop righting wrongs—will his ego even allow it?  Frank Miller's story of an aging Batman plays with this idea brilliantly.  For those of you now thinking "this sounds just like 'The Watchmen,'" the first installment of "The Dark Knight Returns" was published in 1986 where as the first issue of "The Watchmen" came out in 1987.  That's right—Frank Miller did it first!