Submitted by

Local History a...

on March 26, 2014 - 12:02pm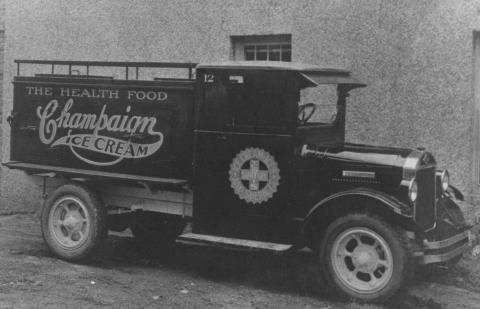 On frigid days like this we have to remind ourselves that summer will be here soon! Thinking of summer always reminds me of sweet, frozen treats. The photo above was taken in the 1920's when Champaign was home to the Champaign Ice Cream Co. As you can see, Champaign Ice Cream Co. advertised ice cream as "the health food." From 1913-1929 residents could satisfy their appetites for sweet summer treats and also tour the creamery.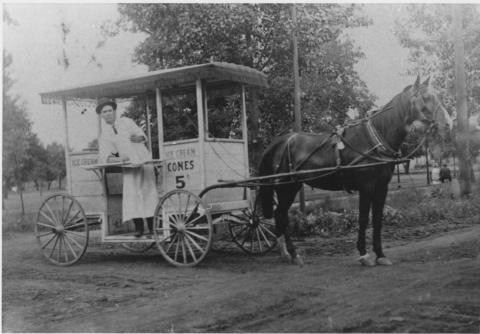 History of the Champaign Ice Cream Co.
In 1891, Frank Wright, Fred Holmes, and James Kisner founded a creamery in Manteno, Il. The creamery, which had originally manufactured butter, began producing ice cream in 1900. The business expanded to Kankakee, Paxton, and finally, in 1911, to Champaign. Two years later the Champaign Creamery Co. became the Champaign Ice Cream Co. with Del Huxtable serving as president. At the time, Huxtable was director of the Illinois Dairy Products Association and was past president of the Illinois Association of Ice Cream manufacturers.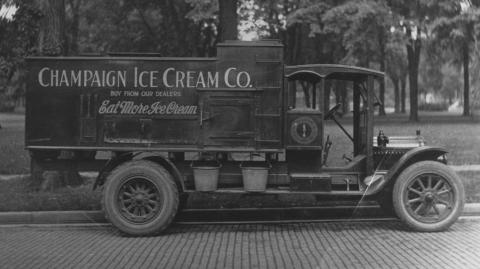 In 1929, the Champaign Ice Cream Co. became the Meadow Gold Ice Cream Division of Beatrice Foods.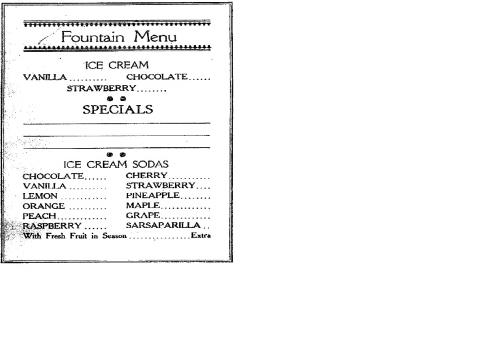 The photographs featured here were taken from 1913-1929. These photographs can be accessed in the "Champaign Ice Cream Co." Photographs Envelope of the Local History Photographs Collection.
The 1926 menu is part of the "Champaign Ice Cream Co." Vertical File Folder of the Local History Ephemera Collection. 
By Donica M.