Submitted by

Teen Services

on December 3, 2012 - 4:28pm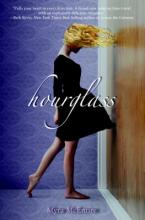 Emerson Cole doesn't like the idea of returning to her old high school for her senior year, not after her infamous breakdown in the cafeteria when she was a freshman.  But she's gotten smarter now.  When she sees people that no one else sees, she makes sure not to talk to them, at least not when anyone else is around.
They're not just any people that Emerson sees—they're ghosts of people from the past.  That's what Emerson believes until she meets Michael, someone with similar abilities to her own.  He helps her understand that seeing people from the past is just the start of what she can do.  And as it turns out, only Emerson can help him save the life of someone he cares deeply about.
But there are other forces out to stop them and to use Emerson's abilities for their own purposes.  Will Michael or any of his friends from the mysterious Hourglass organization be able to protect her?
Hourglass is Myra McEntire's debut novel and is an unique mix of paranormal and science fiction.  Can't get enough?  A sequel, Timepiece, came out last June.