Submitted by

Local History a...

on December 1, 2012 - 1:13pm
We here at the archives were thrilled to learned of the partial reopening of the Urbana Landmark Hotel (the former Urbana Lincoln Hotel) this weekend. With this new beginning, we thought this would be a good time to recount just how this local landmark came to be.
As Urbana prospered in the early 20th century, civic leaders realized it was missing one thing: a hotel in which visitors (including those attending events at the now thriving University of Illinois) could stay. In 1921 then, a group of 100 local businessmen formed the Urbana Hotel Corporation, and sold stock in the company to hundreds of local investors. By 1923 the company raised enough to begin construction.
Renown local architect Joseph Royer drafted plans for a somewhat "standard" hotel. These were rejected by the company leaders, who were seeking a landmark for downtown area. Royer then offered a soaring five-story English Tudor style building, one that was enthusiastically welcomed. They chose the corner of Broadway and Green Streets as its location, and construction commenced. 
Completed just in time to accept guests for the University's homecoming game in November 1923, the Urbana Lincoln Hotel celebrated its grand opening January 30, 1924. It remains a distinctive and historic presence in downtown Urbana. ~efair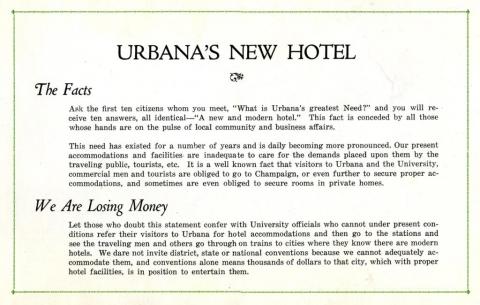 Page from a pamphlet produced by the Urbana Hotel Corporation discussing the need for a downtown hotel, 1921.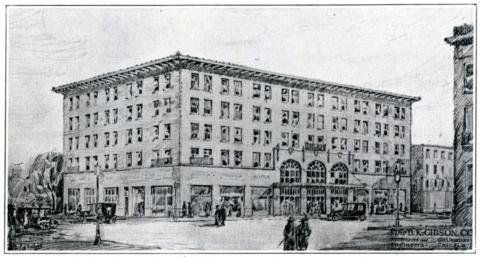 Sketch of a proposed hotel for downtown Urbana, 1921.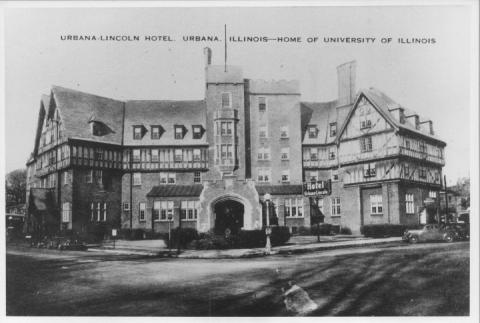 The Urbana Lincoln Hotel as completed, from a ca. 1940 postcard.