Submitted by

kathy

on September 28, 2016 - 6:07pm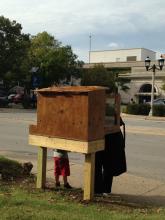 What's a Little Free Library?  They come in all shapes, sizes, and designs, but they are a worldwide network of small structures that offer free books to members of local communities. As of June 2016, there were 40,000 Little Free Libraries located worldwide.  And now the Library has one, thanks to a number of organizations and individuals. 
During their 2016 Construction Camp in August, the staff of the Urbana Park District and the children who participated in the camp built a Little Free Library for The Urbana Free Library.  Library staff selected a site for the Little Free Library, applied for a charter, and held a grand opening on September 22.  The Friends of The Urbana Free Library have volunteered to stock the Little Free Library with books donated by members of the community. The Little Free Library is now open for service, but don't forget---share your love of reading when you visit the Little Free Library---take a book, leave a book! 
The Little Free Library is located at 203 West Green Street, across the street from the Library, where you will also find the Teen Open Lab Bee & Butterfly Garden. 
The Library thanks Anna Merritt, The City of Urbana Environmental Sustainability Manager Scott Tess, the Urbana Park District, the Landscape Recycling Center, the Friends of The Urbana Free Library, City of Urbana Operations Manager William John Collins, Tom and Jen Teper, and the children of the 2016 Urbana Park District Construction Camp.
Learn more:
CI Living at the Grand Opening of the Little Free Library  and Bee & Butterfly Garden
Bee & Butterfly Garden and Little Free Library Feature on UPTV
Urbana Park District Construction Camp 2016
It's All About U - October 2016