Teen Picks
Look no further for ideas about what to read next. Check out our reading recommendations, or use one of our online tools, such as Novelist*. We also hope you'll stop by the library for our awesome selection of books, CDs, and movies - or just to use the Internet or hang out in the booths in the YA section.
*Library card required
Is there a book you hope we'll buy? Do you have a comment or an idea for us? Need help finding something or have a question about the library? Contact us at reference@urbanafree.org, or turn in a comment card next time you're in the YA section.
 
UMS and UHS Return Bins – Avoiding Late Fees Just Got Easier!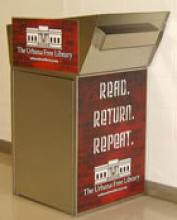 It's easy to return anything – books, CDs, DVDs, etc. – that you've checked out from The Urbana Free Library (or Champaign Public Library). Look for the conveniently located return bins on the first floors at Urbana Middle School and Urbana High School.
Reading Recommendations
Booklists and Book Awards from the American Library Association
Great reads from the American Library Association, including recommended books for the college bound, edgy realistic fiction, and "Quick Picks" - irresistible reads they'll never assign in school!
No Flying, No Tights
If you're into graphic novels, try this site with news, reviews, and gossip on graphic novels of all kinds.
Reading Rants! Out of the Ordinary Teen Booklists
Some of the hippest, most interesting teen booklists around, including Teen Tearjerkers, Boy Meets Book, Hip History, and Graphic Fantastic.
Teenreads
Teenreads brings teens info and features about their favorite authors, books, series and characters. Check out their book reviews, features, in-depth author profiles and interviews, excerpts of the hottest new releases, literary games and contests, and more.
Staff Picks 2016
Staff Favorites - Teens (CU Catalog)
Staff Favorites - Teens