Submitted by

Local History a...

on June 21, 2017 - 8:34pm
Last weekend was the
University of Illinois Extension's Garden Walk
, an event which showcases local private and public gardening spaces. Cooperative Extension Services have a rich history, dating back nearly 100 years in Champaign County. I recently finished processing the records of the Champaign County Homemakers' Extension Association, known at various times as Champaign County Home Bureau (1924-1945), Champaign County Home Economics Extension Services (1946-1989), and Champaign County Homemakers' Extension Association (1991-1994).
Submitted by

Local History a...

on January 31, 2017 - 3:34pm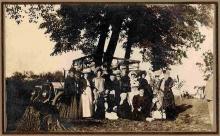 Art Club Picnic, date unknown
During the Civil War, American women coordinated efforts to deliver supplies and uniforms to the front lines and to hospitals, acted as nurses on the battlefield, and worked in industrial and farming jobs vacated by men who had gone to fight. In the years following these same women found themselves without an outlet for the administrative skills the war years had cultivated. Perhaps more importantly they yearned for the camaraderie these activities had provided. Industrial and technological advances alleviated the time-consuming labor of homemaking, creating idle leisure time many women had never before experienced.