Submitted by

Local History a...

on December 29, 2015 - 3:55pm
Ellis Island opened on January 1, 1892. In honor of that occasion here is a blog we posted in 2013 about the history of the island and tips for researching an ancestor's immigration story. Happy New Year, Everyone!
---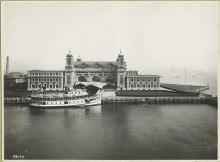 We all learned as school children how our immigrant ancestors came to America through Ellis Island. The real story about where and when immigrants entered the United States is much more complicated than the story we grew up with. Ellis Island was a New York gateway for the arrival of U.S. immigrants from roughly 1892 to 1924. Although it was by far the largest port of entry and millions arrived during that time, it was one of many ways to enter the United States.