You are here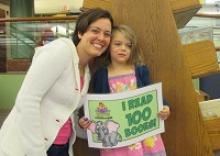 The first exciting news is that on Thursday, Elora Cork completed her first 100 books on her way to 1000 Books Before Kindergarten!  Elora received two special stickers and got her picture taken for our online gallery.  If you haven't registered yet, we would love to have you joi Read more about Yay!
Last night several adorable stuffed animals spent the night alone in the library after being thoroughly read to, sung to, danced with, and tucked in by their families. As you can see, they all had a blast! Then, this morning, their families came in and were reunited with their "stuffies" during a special pancake breakfast. A "hidden" camera managed to catch some of the shenanigans after everyone went home last night. A good time was had by all! Lynn and Rachel
  Read more about Furry Friends stay overnight at the Library!