Champaign County history
Champaign County history
Submitted by

Local History a...

on July 22, 2017 - 5:20pm
Submitted by

Local History a...

on June 21, 2017 - 8:34pm
Last weekend was the
University of Illinois Extension's Garden Walk
, an event which showcases local private and public gardening spaces. Cooperative Extension Services have a rich history, dating back nearly 100 years in Champaign County. I recently finished processing the records of the Champaign County Homemakers' Extension Association, known at various times as Champaign County Home Bureau (1924-1945), Champaign County Home Economics Extension Services (1946-1989), and Champaign County Homemakers' Extension Association (1991-1994).
Submitted by

Local History a...

on January 5, 2017 - 10:00am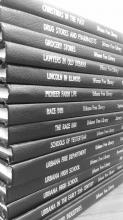 Transcripts of The Urbana Free Library Local History Roundtable discussions
While spending time with your family over the holidays, chances are you heard stories about the "good old days" from your grandparents, aunts or uncles, or parents. Perhaps you can't get enough of these reminiscences. If that's the case, check out the Champaign County Historical Archives collection of over 250 oral histories.