Submitted by

Children's Services

on May 6, 2017 - 5:00pm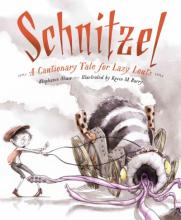 Stephanie Shaw and Kevin M. Barry have teamed up to create a beautifully gothic retelling of The Sorcerer's Apprentice. Schnitzel is a lazy lout working for Willibald, the world famous wizard. Schnitzel's *least* favorite chore is using the beastly vacuum cleaner. That is, until a door-to-door travelling vampire offers to clean Willibald's entire castle in order to demonstrate his enchanted vacuum. How could Schnitzel ever refuse such an offer?!
Spoiler:  the vampire doesn't have the best intentions.
Check out Schnitzel: A Cautionary Tale for Lazy Louts to see how the story ends. As a bonus, the back page has a bit of history of The Sorcerer's Apprentice, as well as a creative writing prompt for your little reader and writer!
Elisabeth