We are currently taking reference calls and answering emails at the following times: 
Monday, Tuesday, Thursday: 10:00am - 6:00pm
Wednesday: 10:00am - 7:00pm
Friday, Saturday: 10:00am - 5:00pm
Sunday: 1:00pm - 4:00pm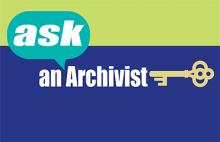 Phone: 217-367-4025
About Us
The Champaign County Historical Archives is a department of the Library that maintains a research-level collection on the history and genealogy of Champaign County and its residents. Come explore our rich holdings of archives and special Collections that document local life from the 1830s through the present day.
Planning a visit 
During Phase 4, Tier 3 mitigations, the Champaign County Historical Archives is closed for in person services. Please call or email with any reference questions, or to inquire about curbside and remote request options. 
The Champaign County Historical Archives is located on the second floor of The Urbana Free Library and is open to the public. For hours and holiday closings please visit the Library's hours page.  
Your visit does not require an appointment. We do ask large groups to contact the Archives in advance so we may better prepare for your visit (K-12 students welcome!).
Making a Donation
To donate special collection materials documenting the history of Champaign County, please contact Archives Staff at 217-367-4025 or archives@urbanafree.org. Donations of books, photographs, postcards, family papers, organizational records, and monetary gifts are always welcome.
Donations and bequests of materials are accepted by the Archives staff with the understanding that they are judged on the basis of the Archives Collection Management Policy. Materials that fall outside the scope of this policy are not added to the collection. We will work with you to determine the most appropriate disposition of the material and to conclude a gift agreement. Donations are tax-exempt. Donors are responsible for assigning a value to donated items.