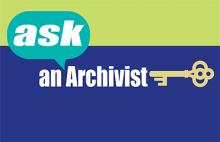 Phone: 217-367-4025
About Us
The Champaign County Historical Archives is a department of the Library that maintains a research-level collection on the history and genealogy of Champaign County and its residents. Come explore our rich holdings of archives and special collections that document local life from the 1830s through the present day.
Planning a visit
The Champaign County Historical Archives is located on the second floor of The Urbana Free Library and is open to the public. For hours and holiday closings, please visit the Library's hours page.
Appointments are preferred, so we may better prepare for your visit, but they are not required. To schedule an appointment, call 217-367-4025 or email archives@urbanafree.org. We do ask large groups to contact the Archives in advance.  K-12 students welcome!
Please allow 48 hours for retrieval of special collection materials, including Chanute and News-Gazette holdings.
Making a Donation
To donate special collection materials documenting the history of Champaign County, please contact Archives staff at 217-367-4025 or archives@urbanafree.org. Donations of books, photographs, postcards, family papers, organizational records, and monetary gifts are always welcome.
Donations and bequests of materials are accepted by the Archives staff with the understanding that they are judged on the basis of the Archives Collection Management Policy. Materials that fall outside the scope of this policy are not added to the collection. We will work with you to determine the most appropriate disposition of the material and to conclude a gift agreement. Donations are tax-exempt. Donors are responsible for assigning a value to donated items. 
Remote Research
If you are unable to visit in person, please consult our Local History Online Catalog. This site allows a comprehensive search of the holdings of the Champaign County Historical Archives, helpful hints, contact information, and instructions for ordering copies of records housed in the Archives. See our How to Order Copies page for instructions on how to submit a request and associated costs.
Interlibrary Loan
Since the Archives collection is not comprehensive, the time may come when you need to look at material located elsewhere. In some cases, books, censuses, newspapers and other microfilms or photocopies may be obtained through interlibrary loan. There is a fee per interlibrary loan request, which helps pay a portion of the amount that lending libraries charge the Archives (fees may vary). Interlibrary loan requests within the state of Illinois are free of charge. Interlibrary loan request forms are located at the Archives reference desk.
Photocopying and Scanning
Nearly all material in the Archives can be photocopied or scanned except those materials that are subject to copyright restrictions or are too fragile to copy. A copy machine containing acid-free paper is located in the Archives reading room. Also available are machines for copying (print/scan) microfilm and microfiche, as well as flatbed scanners for printing/scanning. There is no charge for scanning images on-site. Self-service copies are 15¢ each for black & white, 75¢ for color.