Reading Programs
Saturday, May 9, 2015:  Registration begins
May 28 - August 31:  Record reading progress
Get jazzed this summer!   Sign up for Read to the Rhythm and have a rockin' good time reading and enjoying some musically themed programs.  Read to the Rhythm is for children through grade 5—readers and listeners!
Read to the Rhythm Information   •  Sign Up Now!
Book prizes for the Winter Reading Program are funded by the Friends of The Urbana Free Library. 
#1000B4K
Growing Readers One Book at a Time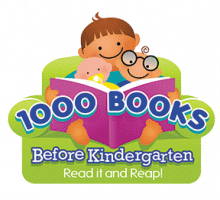 The simple and enjoyable act of sharing books will help your child learn pre-reading skills such as understanding the sound letters make, developing a bigger vocabulary, and building background knowledge--important skills that help prepare your child for learning to read and entering kindergarten.  
1,000 Books Before Kindergarten is a year-round reading program for children ages birth to five years and it's coming to The Urbana Free Library on October 1, 2015.  Participation is easy—sign up at the Library, track your reading progress, and receive special a reward when you reach a reading milestone.  
It's the fun, exciting, and free way to start your child on the path to success!