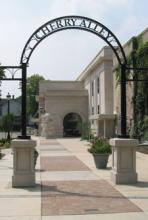 The landscaped walkway from Race Street to the Library's Green Street entrance is on the site of the historic Cherry Alley. The plaza is a pleasant location to read a book, enjoy lunch, or take advantage of the Library's free wireless. 
Designated by a decorative arch at its east end, Cherry Alley features an attractive walkway paved with personalized bricks and two artworks commissioned by The Urbana Free Library Foundation. A gift of only $125 entitles you to personalize one of the Cherry Alley pavers. Your name will join those of your friends and neighbors for years to come, and you and your family can share the fun of seeing your inscription every time you visit the library.
Print a PDF Order Form or Purchase a Paver Online
The Cherry Alley pavers are a perfect way to make your family, friends and loved ones--even a pet--a permanent part of the Library. They make unique, one-of-a-kind gifts for special occasions such as anniversaries, birthdays or graduations, or a special memorial tribute.
Engraved pavers are assigned a three digit location code (Block–Column–Row)
Block 5 | Block 6 | Block 7 | Block 8 | Block 9
Block 5 (Images are in the grid order of: top left, top right, bottom left, bottom right)
547    IN MEMORY OF BETTY HARTON WILSON
548    GRANT WAALER FAMILY
548    LUKE WAALER FAMILY
549    DONNA K. STEVENSON
549    MRS A.R. KNIGHT
551    FISHER FAMILY RALPH & RUTH TAD MEG ALBY
551    THE FORRESTS CLYDEJEANETTE RUSS AMY MITCH
552    BROGA &  BROOKENS  FAMILIES
552    TAFADZWA & BOB DIENER DECEMBER 2004
553    AMERICAN  LEGION AUX 71  GOLD STAR
553    IN LOVING  MEMORY - JILL  DULUMBACK
554    EVA T SHIVELY UFL DIRECTOR 1/1948-7/1968
554    THE CORNELIUS FAMILY
555    IN MEMORY OF RACHEL I. MUELLER
555    TO CELEBRATE LIBRARIANSHIP AS A CAREER
556    BE MINDFUL  OF YOUR  THOUGHTS
556    THE DENNISONS  JIM KIRSTEN  JAMES ISABEL
557    CELIA FORSTER  1953-2002
557    IN MEMORY OF GREG SRONCE & TOM KELLY
558    NANCY PLOTNER SANDEN
558    NIELS POULSEN FAMILY
559    BETTY ANN KNIGHT
559    BILL KNIGHT
561    DONALD M HENDERSON, JR
561    ROBERT W HENDERSON
562    BOOK LOVERS  ALL THE L&R  DUCEY FAMILY
562    IN MEMORY OF JUDY TOPPING SUSAN MCGRATH
563    JO ANN HEISER GUY MURPHY
563    MICHAEL AND SCOTTIE MILLER !BOOKWORMS!
564    CANDICE E.  BROKOSKI  LOVED TO READ
564    CELEBRATE CANDICE BROKOSKI
565    ROCKIN' IN THE SOUL OF JOLIE RICKKMAN
565    THE NEWS- GAZETTE
566    FOR ALL GRANDCHILDREN THE HUNTS
566    THE ALBERS AND BORLEFF FAMILIES
567    DUANE ECKERTY  FOUR-TERM  CITY CLERK
567    JOLENE DON MCGROGAN BOOKLOVERS
568    BUSH BROS. INC.
568    LOML 2-17-85 VSSPK
569    ANNEGIEN Z.  9/24/1961  ARTS & CRAFTS
569    PAQUITA Z.  5/11/1960  SCIENCE IS IT
571    ALEXANDER M HENDERSON
571    JUDY A HENDERSON
572    FREDERICK AND  HAGLE LAW  OFFICE - URBANA
572    WHY DON'T WE  GO FOR A WALK?  FRED FEHR
573    KEEP READING LUCAS OD AND GP
573    SCHALLER FAMILY
574    CAMERON, LUKAS & CALEB, JADA QUINTON
574    IN MEMORY OF JUNE HENDERSON,MSW
575    BOB&RUTH ROSS 50 YEARS OF WEDDED BLISS!
575    E. S. LAMPMAN ANNE T. WHITE WALTER FARLEY
576    AHIM-MIKE-MAX MANUELA-AINE LOVE-YOU-TWEI
576    DALE + ARLENE ROBB 2003 ANDERSON
577    CHUCK & SALLY WALTERS
577    THANK YOU J. GRUELLE C. ROCKWELL
578    IN HONOR OF MARY ENGELBRECHT
578    MARY O'HARA URSULA LEGUIN R. HEINLEIN
579    B.A. KNIGHT  THE BEST  NEIGHBOR EVER
579    LUCHO ZUIDEMA  11/15/1964  SHIPS&PLANES
581    MY LIBRARY IS DUKEDOM ENUFF - THE TEMPEST
581    PETER F HENDERSON
582    GRANDCHILDREN CHRIS FRANKLIN MEGAN SPITZE
582    HAZEL SPITZE ROBERT SPITZE UIUC EMERITI
583    FRED & SHARON  GERTH  AVID READERS
583    SANDY NUGENT
584    SJAP  BERLOCHER  2005
584    WELCOME TO URBANA'S GEM! THE JONCICHS
585    IN MEMORY OF JUNE HENDERSON,MSW
585    JOHN/TERRY KATIE/CARRIE THIES
586    IN HONOR OF THE UFL STAFF
586    W.E. ED LOGAN
587    CHEVALIER  ADRIAN AND  NATHAN 2004
587    DAVID, KAY, COLE AND ANNE GRABOW
588    DON LOIS WEBB JANICE  DIANE
588    KERAN & WALT  HARRINGTON  2005
589    HAPPY READERS  TOM&LOUISETTE  ZUIDEMA 1967>
589    HAPPY READERS TOM LOUISETTE  ZUIDEMA 1967
589    THE URBANA FREE LIBRARY FOUNDATION
592    IN HONOR OF JAMES F NANCE JEAN P NANCE
592    PAUL NANCE GLENNA SPITZE UHS 1967
593    RITZ FAMILY LOYAL PATRONS SINCE 1979
593    TAYLOR THOMAS BELOVED UHS TEACHER
594    FOR KATIE AND EMILY - OUR BOOK LOVERS!
594    STEVE SLOANE CYBERNETICIAN 1948-2001
595    BELIEVERS MAKE LIARS. -HERBERT BRUN
595    T M WHITESIDE GENEOLOGIST HISTORIAN
596    F.J. KRUIDENIER FAMILY
596    THE HUGH WETZEL FAMILY
597    EXCHANGE CLUB OF URBANA FOUNDED 1926
597    TAYLOR, JOSH  LAURA 1985  CLARK-ORTIZ
598    DON AND PATTY WALDEN
598    G. FRIEDBERG JACK FINNEY ISAAC ASIMOV
Block 6 (Images are in the grid order of: top left, top right, bottom left, bottom right)
612    MC CLURG FAMILY
612    PAULINE AUNT LOLA
613    ERNEST JANE G
613    THEODORE W BETTY S
614    BETH MCCLURG FELTS
614    JOYCE KOENKE KARL KOENKE
615    IN MEMORY OF MY PARENTS
615    KOENKE SONS JEFFREY RANDALL
616    GORDON AND ARLENE DUNKELBERGER
616    IN MEMORY OF ROLF SWANSON SON & FATHER
617    ILLUSTRATOR PHOTOGRAPHER 1956-2001
617    JOHN CRIBBET
618    BETTY CRIBBET
618    PAM STEWARD
621    AMY AIDMAN AND URIEL KITRON
621    TAL KITRON AND DANIEL KITRON
622    BOB AND GERRI KIRCHNER
622    HAROLD AND NANCY DIAMOND -BOOKWORMS-
623    DEDICATED TO THE CITIZENS OF URBANA
623    IN MEMORY OF VINCENT JONES MARCY'S DAD
624    IN LOVING MEMORY OF GREGORY BLISS
624    WE LOVE UFL! DEBBIE, HOWIE, STEVIE & ZOE
625    IN HONOR OF UFL REFERENCE LIBRARIANS
625    LETS READ! ROBERT DUNCAN FAMILY
626    IN HONOR OF ELLEN B RESEK
626    IN HONOR OF EMMA B RESEK
627    FARMHOUSE FRATERNITY
627    ILL CHAPTER
628    CAROL BELL
628    MAURY
629    JOYCE   WAYNE EBERHARDT JULY 3 1948
629    WAYNE EBERHARDT FAMILY
631    MARSHA WOODBURY
631    ROGER WOODBURY
632    AMY ZERNICH 1967
632    SARI ZERNICH 1969
633    SHEILA JEREMIAH SULLIVAN
633    SYLVESTER KITTY SARAH EUDORA PETE
634    IN HONOR OF OUR DAUGHTER LARA JOBE
634    IN HONOR OF OUR SON JEFF PARIS
635    HANNAH KOENKER
635    IN MEMORY OF EMMA NADIA KOENKER
636    B.BEN JOHNSON TRUDY JOHNSON
636    FRANCES L. JOHNSON
637    JANIE & RICH MORENCY MICHELLE, KRISTEN
637    MELANIE BAILEY KAREN*SCOTT MEGAN*VINCENT
638    H. ANN HARDEN SEPT. 13,1928
638    KERMIT L. HARDEN OCT. 26,1924
639    LUAN E WOLD JUNE 25 1950
639    NANCY EBERHARDT JAN 8 1952
641    LUKE WOODBURY
641    MATTHEW WOODBURY
642    JEAN EVANS GENEALOGIST AND ARCHIVIST
643    RONALD AND CATHY WESTMAN AND FAMILY
643    THE PAUL AND NANCY MCNABB FAMILY
644    MARK AND LIZ FLORA AND FAMILY
644    THE ROGER AND ELLEN COLLINS FAMILY
645    IN MEMORY OF HERBERT O AND EVELYN FARBER
645    THE HERBERT G AND LINDA FARBER FAMILY
646    IN MEMORY OF JUDY FARBER
646    JANE FARBER TEACHER OF THE BLIND
647    IN MEMORY OF JANICE FLORA WILKINSON
647    IN MEMORY OF RALPH "BUD" FLORA
648    J. ANDREW HARDEN OCT. 15, 1960
648    JACQUELINE A. HARDEN JULY 1, 1962
649    AMY EBERHARDT JUNE 9 1955
649    UNLESS SOMEONE LIKE YOU CARES A
651    FRANCES BLOOMFIELD IN MEMORY OF
651    LEO AND CAROLYN COOK
652    RALPH AND CAROLYN TRIMBLE TOM, LUCRECIA AND MATEO TRIMBLE
653    BILL, LISA GARRETT AND AARON TRIMBLE
653    FOND MEMORIES LAVERNE JACKSON
654    FOND MEMORIES JUANITA ROBERTSON
654    FOND MEMORIES KATHRYN KINNEY
655    (NO INSCRIPTION)
656    FOND MEMORIES EARNIE BLANCHARD
656    FOND MEMORIES NORMA ROGERS
657    FRANK BOSLEY LIBRARY BOARD 1940-1957
657    M.W. LEIGHTON J.B. LEIGHTON 2004
658    CHRISTINA A. HARDEN MAR. 17, 1994
658    MARY E. HARDEN FEB. 16, 1992
659    GET BETTER. IT'S NOT. THE LORAX
659    WHOLE AWFUL LOT, NOTHING IS GOING TO
661    DANIEL BLOOMFIELD
661    LOUIS BLOOMFIELD
662    JOHN ROGER SHAPLEY
662    PATRICIA ANN SHAPLEY
663    JOY RUTHENIA SHAPLEY 1992
663    REBECCA LYNN SHAPLEY 1975
664    JACK AND HELEN RITTER
664    JOHN ROBERT SHAPLEY 1995
665    LESLIE RITTER JENKENS
665    PAUL LEONARD RITTER
666    MELISSA RITTER REDDY
666    STEPHANIE RITTER MARCUS
667    KEVIN B MARCUM 1955 - 1987  BROADWAY STAR
667    ROGER B MARCUM 1931 - 2004 EDUCATOR
668    ELIZABETH A. LUNSFORD MAY 23, 1964
668    JOHN A. HARDEN DEC. 4, 1998
669    BRITTANY  HAJEK 2005  SCHEID
669    JOHN AND LOU
671    ANNE BLOOMFIELD LUNER
671    RUTH BLOOMFIELD MARGOLIN
672    CLARENCE EUGENE ROGERS 1933-2004
672    MRS. Q LOVES HER WILEY READERS!
673    JAMES WILLIAM QUISENBERRY 1/20/2003
673    SHIRLEY MAE ROGERS 1934-1990
674    CAROL MORSE WHITE UHS '86
674    IN MEMORY OF BUCCA & NANA ROGERS
675    CINDY MORSE KETNER UHS '78
675    JIM MORSE UHS '81
676    PETER WATT-MORSE UHS '76
676    THE MORSE'S DAN MORSE UHS '83
677    IN MEMORY OF GERRI GRIFFIN 1941-2004
677    LEW,NATHANIEL SUSAN&JOSHUA HOPKINS
678    HALLE N. LUNSFORD NOV. 13, 1998
678    TERRY A. LUNSFORD JUNE 3, 1966
679    BRUCE BRIANNA HAJEK/SCHEID BETH BRITTANY
679    BRUCE HAJEK LOVES TO READ
681    ED AND CAROL SCHARLAU
681    ROLLY & NORMA ZIMMER
682    ANDY, KRISTEN NATHAN & JOSHUA DIAMOND
682    IN MEMORY OF STEVEN B. DIAMOND
683    IVANA NIKOLIC
683    MAREN HERSLETH HOLSEN
684    DIANE HILLARD
684    KARL SCHLIPF
685    FRED SCHLIPF
685    SASHA & NERO THE WORLD'S BEST CATS
686    JOHN RICHARD SPANO
686    THOMAS NELSON SPANO
687    LUKAS BASTIAN CHRIS GABRIEL GRAHAM MEGAN
687    ROBERT AND SARAH NEMETH READ ON!
688    AMBER M. LUNSFORD JULY 30, 2003
688    PAIGE E. LUNSFORD NOV. 13, 1998
689    BRIANNA 9 YRS SCHEID HAJEK
689    ELIZABETH ANN SCHEID LIVE TO LEARN
692    HANNAH PENN ANDREW A. WICKESBERG
692    LAURA WICKESBERG
693    ROBERT E. WICKESBERG
693    SUSAN E. NOFFKE
694    FOR MY SISTER LEE CHERAMY LOVE, MARYLY
694    JEAN F. HILL ANNE VAN DYKE
695    KAREN SANSONE IN MY HEART NOW, ALWAYS
695    SARAH, DAVID, EMILY MY DEAR CRUTCHER KIDS
696    REF LIBRARIAN BEV RHODES
696    REF LIBRARIAN RUTHIE BISHOP
697    REF LIBRARIAN MARY BENSEN
697    REF. LIBRARIAN PAULA EMONS
698    REF LIBRARIAN JO TABER
698    REF LIBRARIAN JULIE THEOBALD
Block 7  (Images are in the grid order of: top left, top right, bottom left, bottom right)
712    A GOOD BOOK IS THE BEST OF FRIENDS
712    MELINDA MIKE MARINA MONIKA GIL MENDOZA
713    ROBT HOLTHUSEN
713    THE GREAT UFL LARRY BERNICE LIEBERMAN
714    I CAN'T LIVE WITHOUT BOOKS JEFFERSON
714    MURLE EDWARDS
715    JASMINE . RAVEN . SADIE . B . DOLLY . TRIXIE . LOUIE
715    OH FOR A BOOK AND A SHADY NOOK---WILSON
716    IN MEMORY OF BOB PERRY, HE LOVED WORDS
716    JIM AND STACY ECONOMY
717    CAROL AND CARL BELBER
717    THE TRAUGOTT FAMILY
718    ONDINE & GEORGE GROSS
718    THE KITTIES OF NANCY AND TOM ANDERSON
721    LWLISATSARFFN IAYSHTHUNAAEE ZSXHEEENDNRWW
721    THANKS MELVIL DEWEY 025.41
722    BRIGHT FUTURE HEREIN SERENA LOVE MAMA & DAD
722    MARJORIE AND EDDIE YAP RAMIREZ, M.D.
723    ALLAN & CECILE STEINBERG AND FAMILY
723    THE JERRARD FAMILY
724    JORDAN FAMILY J P S C V A N A O J
724    NEITHER A BORROWER, NOR A LENDER BE
725    HENRY JAMES RINEHART-BORN JULY 29, 2004
725    JANE PHILLIPS CARING FRIEND
726    GENTRY FAMILY JENNIFER, JIM KIRSTEN, RITA
726    WE LOVE BOOKS SUSAN&VICTOR STONE
727    FERN H MARTIN HONORING THE ISENBARGERS
727    IN LOVING MEMORY OF ALICE LANSING
728    DEBRA JO LISSAK
728    PETER PEG ANNA MARY JACOB & PAUL
729    JEAN GORDON ARCHIVES 1976-2004
729    REMEMBERING ARTHUR SILLIMAN
731    ADVANCED WAYNE CAIN & SONS
731    MICHELE GUERRA GENE PITCHER
732    THE ROBINSONS JIM JAN MARK MARGIE GLEN
732    WALLY & EMILY HARTSTIRN
733    IN MEMORY SAMUEL CARMER 1932-1991
733    ROB RUTH AND DIEDRE
734    KURT BONNIE FROEHLICH KEVIN
734    TYLER/ OLSHANSKY FAMILY
735    MAGIC PEPPER SUPER POODLES
735    MAX DIFFENDORFER 12/15/2004
736    READ IN ORDER TO LIVE -G. FLAUBERT-
736    THE BERGERONS LAURA AND CLIFTON
737    PAUL DUMONTELLE FAMILY
737    TO EVERY THING THERE IS A SEASON..
738    CAROL ANNE AND WILLIAM KUBITZ
738    RUPERT AND MARY K EVANS LOVE THE UFL
739    DR. HELEN M. WIDICK
739    JUDY JAN JEAN ST. CLAIR SAY THANK YOU
741    ALLEAN HALE TENNESSEE WILLIAMS
741    FRANKLIN & HANNAH JOHNSON
742    IN MEMORY OF  LOCAL AUTHOR  REBECCA AYARS
742    KAREN LAURA + JANET CZYS
743    ADAM ABBY SAM CHARLIE TED SALLY ALDEEN
743    TO KATH ELIZ AND JON MYERS LOVE DAD
744    ENJOY READING JERRY CARDEN TIM TEMPLE
744    RICHARD & BARBARA SCHROEDER
745    DAVIS GEOFFREY & ROSS BROWN
745    THE PATH IS MADE BY WALKING
746    TO EDITH A BOOK LOVER ERIC & NAOMI
747    ANON.
747    BUNNY H.
748    IN MEMORY OF EDNA ANCHOR
748    SEE THE WORLD THROUGH BOOKS J & D KRUSE
749    LEAH AND CLAIRE MALKOVICH
749    THE KINGERYS BEV, LORI KARL & BRENDA
751    ELIZABETH ANN SCHEID LIVE TO LEARN
751    HEALTH ALLIANCE
752    G.R. CARLISLE IN MEMORY OF RENE CARLISLE
752    IN MEMORY OF DAVID DAWSON 1959 - 2003
753    GERALD KNIGHT JANICE KNIGHT
753    THE FARRELLS MEL, D.GERARD DEDE & MATT
754    LIBRARY LOVER SHERRY LYNNE ESKEW-BANNER
754    TSAI DUNGCHUN YALING YIJEN FRANKLIN 2004
755    ANNELIESE MARIE BOOTH
755    UNCLE DICK THURSDAYS
756    BILL GOLDEN MYRNA GOLDEN
756    GENE AND BETTY JO OLIVER
757    FOLLIS FAMILY DON, JENNIFER MADDIE, IAN
757    WALTER AND MARGUERITE MAGUIRE
758    FAMILY OF H.G. AND M.E. DRICKAMER
758    IN LOVING MEMORY OF  LLOYD WITTER
759    LITTERA SCRIPTA MANET
759    MY BOOK AND HEART MUST NEVER PART
761    MILLER ENTERPRISES ROGER MILLER
761    THE MEHAFFEY FAMILY
762    CRAIG & LYNN ISENBARGER FAMILY
762    MR. & MRS. JOHN FOREMAN
763    READ, AND DRIVE THE NIGHT AWAY
763    WAYNE C. J., ROSEMARY AND SCOTT RAESKE
764    IN MEMORY OF GEORGE HAMMES
764    WE MISS YOU MOM LOVE, ANN DEBRA & R.J.
765    LET THE SOFT ANIMAL OF YOUR BODY LOVE.
765    LISA GOTTHEIL JOSH GOTTHEIL
766    OSCAR DODSON RADMIRALUSN DODSON FAMILY
766    READ, THINK, SPEAK, AND WRITE---ADAMS
767    ...THE SWEET SERENITY OF BOOKS...
767    ROBIN PERKINS EXTRAORDINARY HUMAN BEING
768    FOR MY EMILY & JACK BENNY LOVE, KAREN
768    MARC W GOLD YOUR FAMILY MISSES YOU
769    IN HONOR OF STEPHEN LOUIS WILLSON 48-02
769    POKE CHOP DENNY GUY BOOJY WOOJY
771    MIKE&CANDI MURPHY 2004
771    ROBERT L. AND MARY WILKES TOWNER
772    BOOKS OPEN MANY DOORS THE KELLEHERS
772    IN MEMORY OF RAY G BLUME RAYS HEATING
773    BURKHARDTS
773    LIBRARIES ARE NOT MADE; THEY GROW
774    EAT DRINK READ
774    TOM, LYNNEA, KIRBY&AUGUST JOHNSON
775    JACK & EVA STEGER
775    MY LIBRARY WAS DUKEDOM LARGE ENOUGH
776    CAITRIN THOMAS GALAN    JOHN
776    THE BERNDTS SONJA, BROOKS AND KRISTIN
777    GEORGE MILLER RUTH S MILLER
777    TAMMIE, JOHN, AND WILL BOUSEMAN
778    "TO THINE OWN SELF BE TRUE" -SHAKESPEARE.
778    FOR MY MOTHER CELESTINE ELLIOTT
779    AUTUMN RAINE EDEN MARINA DETMER
779    BECKY MCCABE EXCEPTIONAL TEACHER
781    EDDIE AND PAT ADAIR SINCE NOVEMBER 1994
781    HENRY DAVID THOREAU
782    IN MEMORY OF HERBERT SCHLOZ
782    MEMORY OF BOB & KAY NEITZEL THE OLDHAM'S
783    BINNINGTON CZIKO FAMILY 2004
783    BOOK LOVERS NEWELL FAMILY TY+DEB+BMLD
784    GLEN & JACKIE PAINE ROMANS 8:31
784    JOE PERILONGO
785    CHRIS AND WENDY HARRIS
785    ROBERT L. HODGES URBANA
786    ALVIN G KLEIN MARY F KLEIN GEORGE KLEIN
786    GRETCHEN ANNE BOOTH
787    BROOM FAMILY ANNE WILLARD MAGGIE DANNY
787    MATTHEW,KATIE HANNAH&JACK SNYDER
788    EDWARD EAGER C. S. LEWIS E. BAGNOLD
788    FRANCES AND LESTER TOUBY KURTZ
789    JOHN LAUREL HEP ESP VNJP PRUSSING
789    MARJORIE A DANIEL J PERRINO
792    JTC
792    MICHAEL, RUTH AND MEG STAUDER
793    THE ARCHIVES THANKS NELLE CARPENTER
793    TOD F. SATTERTHWAITE
794    MADELEINE L'ENGLE BELOVEDAUTHOR
794    THE DESSEN FAMILY
795    CARTER HUFF WITH LOVE R & A MERRITT
795    HIRAM & JEAN PALEY
796    FRED & CONNIE FAIRCHILD 2004
796    THE SCHEIDEMANTEL FAMILY
797    JOHN&BARBARA HOUSEWORTH
797    T.LIBRARIANS: MAY, JOAN, ANNE AND ROBERTA
798    MADELINE & SAMUEL WHITESELL
798    THE ROAD GOES EVER ON AND ON- B.BAGGINS
Block 8 (Images are in the grid order of: top left, top right, bottom left, bottom right)
812    BARBARA, JOHN COLIN, BETHANY ABIGAIL 2005
812    THE FAMILY OF RON & DONNA SIMKINS
813    SHIRLEY AND WARREN RITTENHOUSE
813    VIRGINIA AND FLOYD BAILEY AND FAMILY
814    ANDREA NATHAN PATRICK STEFAN ADRIAN
814    ROBERT SHERRY STEIGMANN
815    IN MEMORY OF DENISE WALKER
815    TBP HCP
816    HAROLD AND LOIS GUITHER AND FAMILIES
816    IN MEMORY OF LOUISE AND AL KAUTZ
817    AUDREY &MYRON COCHRAN
817    ROBERT CLARK OLIVE B CLARK
818    JAMES D. NANCY L. QUISENBERRY
818    LENA ELAN YOUNG READER 2005
821    CHARLES DIETRICH BOOTH
821    JO BENSON AVID READER INSPIRES ME
822    BOOKS ARE FUN ELLA OD AND GP
822    MITRA, KAVEH & ANAHITA GHABOUSSI
823    IRONWORKERS LOCAL UNION #380
823    ROBERT & HATTIE MARION MAY 2005
824    MICHAEL BENJAMIN LINTNER
824    SHARON ROSE LINTNER
825    ISABEL 11-10-04
825    SOPHIA 09-01-01
826    KENT LORI AMBER KELSEY NICOLE
826    THE CHOQUETTE FAMILY
827    BILL AND JEANNE-MARIE SEPTEMBER 2005
827    WYLD FAMILY KAREN, SANDRA DEREK, KEVEN
828    IN MEMORY OF RICHARD PITTMAN 1924 - 1945
828    REVEREND JACK AND THE HOUSE OF SLACK
829    IN MEMORY OF ENOS & MAY PHILLIPS
829    WILLIAM GERHARD BOOTH
831    JACOB WILLIAM BALBACH
831    TOM AND NANCY BALBACH FEHR
832    IN MEMORY OF MIKE METTLER DAD AND MOM
832    RICHARD & ANNA MERRITT
833    MRS. GRABOW'S FOURTH GRADE CLASS OF 2005
833    PAUL & ALICE MARITA & ZACH DON & DONNA
834    JEAN KOCH ARCHIVES DIR. 1981-2005
834    WESLEY ISAAC LINTNER CARLISLE
835    ISAAC  HANNAH ABIGAIL RADNITZER
835    STEPHANIE ROBIN OVERMIER
836    DAVID ISHII  SMYTH SAM
836    JOHN, ELEANOR AND MATTHEW D'ANDRIA
837    CHAMPAIGN-URBANA HERB SOCIETY ESTB. C. 1975
837    FROM STONE  ACROSS THE
838    BOOK BY
838    TO STONE  MOVING STREAM
839    CS TJB NB BB
839    BOOK  S. BOUGY
841    EDITH DEWITT BALBACH
841    JACK & BARBARA BALBACH HAINES
842    IN APPRECIATION JOE COATS
842    SARA A. STEVENSON BIBLIOPHILE
843    AUGUST HOWELL RINEHART-BORN NOV.06, 2004
843    THE LAIN FAMILY 2005 LLOYD & ALICE
844    BOOKS BOND BODY AND SOUL TERRI AND JAY
844    DEDICATED TO ALISSA CATIIS THE ONE I LOVE
845    BELOVED SON PETER BEYER MCLAUGHLIN
845    SARAH  ERIN & HAILEY CAMERON
846    IN MEMORY OF RALPH WAGNER EVELYN WAGNER
846    THE ROBERTS BARB AND TIM ARCHIVES
847    ENJOY! MARY K., JOHN & MARA TAFT
847    INHONOROFOUR3 CHILDREN-GEO. &NANCYDAIGH
848    JAMES CAMPBELL 1918-2005 WW II EX-POW
848    WOOLF SENOFF FAMILY
849    ELIZABETH J.  CHATO 2005
849    JOHN C. CHATO 2005
851    BYRON & JEANNE HICKMAN BALBACH
851    STANLEY & SARAH WITHERSPOON BALBACH
852    LOVE      LAUGH  LEARN        LIVE
852    THE BRUCE FAMILY
853    IN MEMORY J.C. SPITLER W.M. JOHNSON
853    IN MEMORY OF CANDY BROKOSKI MAGNET CLUB
854    ED AND RUTH NESTINGEN
854    IN MEMORY OF OUR COUSIN CANDICE
855    THE BEASTALL FAMILY
855    WE LOVE YOU MRS. I CLASS OF 2005
856    IN MEMORY OF DAVID A. KUSA A JOY TO ALL
856    TURNER, LAURA, IRENE, CYNTHIA & NELSON BOND
857    ERIK ORDAL JENNY ORDAL INGRID ORDAL
857    THE ADCOCKS DAVID, TERRY ZACK & ALEX
858    DENNIS ROBERTS ALDERMAN WARD 5
858    TUFL IS #1 IN MY BOOK! MARY MANLEY
859    CHRIS CHATO 2005
859    DAVID CHATO 2005
861    BERNICE FISKE GAVE HERSELF TO CHILDREN
861    BERNICE FISKE YOU ARE LOVED ANONYMOUS
862    MEGAN RILEY JACOB RYAN BARNETT
862    ROBERTS GARY & KIM ANDY & SAM
863    BROWN/WOODS LANDSCAPE ARCHITECT
863    HEARTS MET GREG     BELINDA JAN 28, 1990
864    J. SCHOMBERG, LEAL FAMILIES THANK YOU.
864    MEDICARE 7,8, OR 9 JAZZ BAND
865    BLUE SKIES ALAN AND LIZ CARMER
865    MAK FAMILY MANKIN  CRAIG PAULINE ERICA
866    BOB EDWIN GUS LILITH EVE BEAN & SIMON
866    IN MEMORY OF ED DESSEN LIBRARY BOARD
867    ASHLEY LAUREN SEOYEON LEE WAS HERE
867    PETER & BEVERLY FAGAN
868    CHAMPAIGN PUBLIC LIBRARY STAFF 2005
868    IN MEMORY IVAN KOPCHOK
869    CARL & ELENA NEWMARK BOOK LOVERS
869    SUSAN CHATO SILVER 2005
871    GALE AND ZELLA WALDEN
871    ROSS J MARTIN 1917-1984 UI STUDENT,DEAN
872    JACOB STAKE LEAL SCHOOL UNI HIGH 1981
872    MARJ AND BRUCE LARSON
873    CCGS HONORS DOROTHY BRUMLEVE
873    EMILY ALLEN HUTCHINSON
874    HARRY BERTIE LLOYD AGNES ESTHER CUTLER
874    LOVING MEMORY MILO & VERNA HEISER
875    ALICE & SCOTT BOEKHOUT FAMILY
875    MYRON & MARGE FEITSHANS FAMILY
876    FOR CHRISTINA BASHFORD OF PENRYN, UK
876    TO HONOR THE BEKIARES FAMILY
877    HERB AND PAT PAYE
877    LISA BREMS B. USED LIBRARY OFTEN 1954-64
878    JULIE & PAT PIOLETTI
878    KEN EDWARDS
879    M. ELIZABETH GUENTHER 2000 LIFE'S JOY
879    READING TRIO HG, LT, ME GUENTHER 2000
881    JOELLE & CECIL BILLINGSLEY FAMILY
881    MICHELLE WALDEN
882    DOROTHY NEUMANN
882    IN MEMORY OF AL. AND LORENA NEUMANN 2006
883    JACQUIE MOORE AVID READER IT BEGAN HERE
883    JOEL MORRIS PETER MORRIS READ! LUV MOM
884    IN MEMORY OF ED DESSEN HIS CHILDREN
884    WESLEY CHURCH IN MEMORY OF J. C. HEUERMAN
885    MY LIBRARY 1992-1995 STEVEN DURIAN
885    STANLEY JOAN SHARP + FEATHER
886    PEARL GOODMAN KIND FRIEND & GREAT TEACHER
886    THANK YOU MRS GAEBE !
887    HER DAUGHTERS  THE JOY OF READING
887    IN MEMORY OF LOUISE AND AL WAUTZ
888    MAYNARD & JANE BRICHFORD
888    URBANA HIGH SCHOOL CLASS OF 1952
889    LOVING MEMORY BARBARA AND JOHN TREUL
889    LOVING MEMORY REVA SCHWARTZ 1912-2004
892    IN MEMORY OF OUR BELOVED CLASSMATES
892    URBANA HIGH SCHOOL CLASS OF 1940
893    SUSAN CURTIN DAVID CURTIN JANE C JONES
893    THE GREATEST GENERATION
894    DONALD MUNRO HENDERSON
894    WILLIAM FOSTER HENDERSON
895    DEREK  EHRSAM HENDERSON
895    JAMES  MONROE HENDERSON
896    FAMILY OF  FRAN & DODIE WEEKS:  HILDA
896    JACKSON FOSTER HENDERSON
897    ANNE, GINNY SALLY, MUFFIE CYNDI & JANET
897    FINI MY BEST FRIEND
898    BOB & KATHY  LOTTY SARA & ALIX
898    MARGOT B. RINEHART-BORN  MAY 3, 2007
Block 9 (Images coming soon)
912    FRED SCHLIPF NOBLE LEADER 1974-2007
912    LIBRARY STAFF COMMEMORATE HIS GREAT WIT
913    BETTY SMITH GOLLADAY "OBIT LADY"
913    TO GRETCHEN FROM YOUR BILLY
914    CHRIS & SARA STOHR FAMILY HEUNA
914    MARGARET "PEGGY" HENDERSON
915    ANGELA EHRSAM HENDERSON
915    IN MEMORY OF PEGGY F. HENDERSON
916    SCOUT OLIVIA HENDERSON
916    TERRY PRINN
917    HAPPY 45TH MIKE & LINDA HALBACH 10/10
917    MAX, LUCIEN& COLIN HEILMAN
918    JOHN W & JUDITH C HUMMEL
918    LOVE YOU GP - LUCAS + ELLA BECKI + ERIC
921    LIZ CARDMAN WUNA ADVOCATE THANK YOU
921    READ TO THE DOGS (PAWPRINT) TRACI (PAWPRINT) CHRIS ELIASON
922    JEREMIAH J JENNIFER M LILY SULLIVAN
922    MAUREEN E SULLIVAN KEVIN OCONNER
923    NANCY WHITLOCK, TEACHER
923    SPENCER AIKIN, FRIEND
924    MARIE ADELE  LOVES TO READ  THANK YOU UFL
924    THE ESTEEMED BACH  SATURDAY SEMINARIANS
925    BETH FAMILY KENNETH, MARY AND SONS
925    HAPPY BIRTHDAY CAROL KUBITZ MARCH 15
926    BETH HERTLE MOM/GRANDMA BEV MARC JANA
926    HAPPY 60/40! LAURIE AND ROCH 2009
927    LAURA BERGERON UFL 1971 - 1997
927    TO DR. & MRS. DON S. WEBBER LOVE MARTHA
928    BILL AND JOSEPH
928    QUILLIN SASKIA LEO
929    BOB KIRCHNER SHAPED CDAP INTO CIDES ---
929    NOW SMILES ON SMILEHEALTHY JOB WELL DONE
931    HILARY T. HOLBROOK (1956-2010)
931    OLUFUNMILAYO OLABISI 2009 JOHN OYELAKIN
932    GRANDPA DAVID DUSTIN JAKOB MATT SARAH GRAM
932    TRADITIONS GRANDMOM&MOM MOM & TREVOR
933    IN MEMORY OF DONALD M GINSBERG
933    PHYSICIST POET, FLUTIST DEAR FRIEND
934    KEMAL PISKIN & SEMRA  PISKIN
934    URBANA HIGH CLASS OF 1968 40 YR REUNION
935    DAVID HEALY A LOVER OF LIBRARIES
935    RICK CARLISLE IN MEMORY OF DICK CARLISLE
936    BETSEY CRONAN WEST URBANA THANKS YOU
936    HAPPY 45TH BILL AND CAROL HIXSON 09/09
937    "COME THE REVOLUTION" GRANDPA  W
937    NANCY & NIKKI O'BRIEN BEST FRIENDS
938    FIONNA VERES LOVE FROM G'MA MUTTI
938    "In Memory of Pat & Leon Mayer"
939    #1 OF 4 KNOWN TO PLEDGE ALLEGIANCE
939    #2 OF 4(BUT NOT UNDER GOD), "PALEO" RALPH
941    ANNALIESA WITH LOVE G'MA MERRITT
941    IN MEMORY OF PERRY L. BAILEY
942    GARY & DIANE STENSLAND SEPT 6 1963
942    SASHA ADORA FOXVOG DENGATE
943    CHAMBANA ROOFING
943    THE BUSSES BILL, CAROL, EMILY, NORA
944    IN HONOR OF OUR GRANDSON ARLIN ORR
944    IN HONOR OF OUR GRANDSON BERK ORR
945    DOROTHY OSGOOD LOVES THIS LIBRARY!
945    STELLA
946    
946    
947    "In Memory Of Lydia Jeter 1919 - 2016"
947    
948    WILLIAM W. SLEATOR 1917–2013
948    ESTHER K. SLEATOR 1915-1996
949    #3 OF 4 LANGENHEIM EARNED THE RIGHT
949    #4 OF 4 ON UTAH BEACH JUNE 6 1944