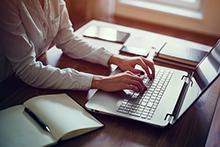 The Champaign County Historical Archives has a diverse array of resources to aid in research on local history and genealogy. They range from databases which provide access to genealogical resources worldwide to affiliations with other libraries and institutions to provide physical access to materials located elsewhere.
Online Library Databases | Other Databases | General Genealogy Resources | Books | Maps | Newspapers | Public Records | For Teachers | FamilySearch Affiliate Library
Online Library Databases - 
Available in Library or with Library card
Online databases are available at no charge to all users in the Library, or from outside of the Library using a valid Library card from The Urbana Free Library. 
Local History Online Catalog - Champaign County Historical Archives catalog.
American Ancestors - Over 480 databases offering vital records, cemetery records, probate records, genealogies, and scholarly journals from pre-1700 to the present. In addition to the United States and Western Europe the databases also cover Guatemala, Barbados, the Caribbean, Costa Rica, and the Dominican Republic. [in-library use only]
Ancestry Library Edition - Popular online genealogy resource that includes birth, death, marriage records, as well as searchable manuscript census records for the U.S. 1790-1940. Similar records are available for the United Kingdom, Canada, Europe, and Australia. [in-library use only]
FamilySearch - Convenient online access to FamilySearch's image collections that contain billions of birth, marriage, death, census, land, and court records from over 130 countries. [expanded access is available in-library use only].
Findmypast - A UK-based genealogy database that offers British and Irish parish records, censuses, passenger lists, birth, marriage, death, and military records. Findmypast also provides access to British and Irish newspapers and is home to PERSI (the PERiodical Source Index), the largest index to genealogy and local history magazines, newsletters, and journals.
Fold3 - Military records. Fold3 has significant collections covering the American Revolutionary War, the War of 1812, American Civil War, World War I, World War II, the Vietnam War, and other aspects of military organizations and conflicts.
Heritage Quest -Genealogical and historical sources for more than 60 countries including Africa, Asia, India, Central, and South America, as well as the United States and Europe with coverage dating back as early as the 1700s.
MyHeritage Library Edition - World-wide historical and public records, family tree profiles, US Federal Census (1790-1940), and much more.
News-Gazette - Full-text articles of local news, June 1997 to October 13, 2019.
Newspapers.com - World Edition (by Ancestry) -  The largest online newspaper archive. 12,100+ newspapers from the 1700s–2000s. Millions of additional pages are added every month.
Other Databases 
African American Gateway - A growing resource for African American research compiled by Allen County Public Library of Fort Wayne, Indiana
Archives Grid - Catalog that includes over four million records describing personal papers, family histories, and more from over 1,000 archival institutions including the Champaign County Historical Archives 
Champaign County History Online - Since 1972, the Champaign County History Museum has collected artifacts, documents, books, and photographs related to local history. This portal enables us to open our permanent collection to the public and make the collection available for research and education.
DAR Genealogical Research System - Online genealogical portal including their Ancestor Database, Member Database, Descendants Database, DAR Library Catalog, and DAR Genealogical Records Committee database
eBlack Champaign-Urbana - Collaborative portal providing a centralized repository for local African-American culture and history. Users are encouraged to contribute their stories and photographs
Find a Grave - Free resource for finding the graves of famous folks, friends, and family members 
Illinois State Archives - Illinois birth, death, marriage, and veterans records
PERSI (Periodical Source Index) - PERSI indexes journal articles published by thousands of local, state, national, and international genealogy and local history organizations. It is free to search PERSI, but online access to articles is through subscription only. The Champaign County Historical Archives subscribes to over 100 genealogical and local history journals. You can search our catalog, Local History Online, to see if articles discovered in PERSI are present within our journal collection. For tips on how to use PERSI, see FamilySearch's Research Wiki page.  
General Genealogy Resources
Champaign County Genealogical Society - Selection of links to websites for resources mainly specific to Champaign County and Illinois 
Family Search Wiki - Genealogical research advice and information on where to find record collections
Illinois Online Genealogy Records - Find genealogy records: vital records (birth, marriage, and death), census, cemeteries, probate, land, libraries, societies, churches, newspapers, etc. for Illinois
National Archives: Genealogy Ethnic Heritage - Selection of links to websites that are useful for ethnic genealogical research compiled by NARA
National Archives:  Resources for Genealogists - Selection of links for beginning genealogical research, searchable databases, and preservation tutorials
Champaign County History Books Online
City Directories (1878-1950)
Early History and Pioneers of Champaign County (1886) 
Portrait and Biographical Album of Champaign County, Ill. (1887)
The Biographical Record of Champaign County Ill. (1900)
The History of Champaign Champaign County by J.O. Cunningham (1905)
A Standard History of Champaign County Illinois: Volume 1 and Volume 2  (1918) 
Historic Maps 
1858 Alexander Bowman Map of Urbana and West Urbana (22.2 MB)
1869 Birdseye View, Champaign (26.3 MB)
1884 Birdseye View, Champaign (12.6 MB)
Chapmpaign Interactive Historic Map, Map of historic aerials and Sanborn Fire Insurance Map. Aerial Imagery dated from 1936, 1940, 1948, 1955, 1958, 1967, 1969, 1973, 1977, 1982, 1987, 1988, 1993, 1998, 2001, 2002, 2005, 2008, 2011, and 2014
Sanborn Fire Insurance Maps - The University of Illinois' digital collection of Sanborn Fire Insurance Maps includes maps of Illinois towns, including ones located in Champaign County. Sanborn maps are great for documenting family homes and businesses and provide an unparalleled look at how the built environment evolved over time. Maps in this image collection pre-date 1923.
Newspapers 
Chronicling America: Historic American Newspapers - Search America's historic newspaper pages from 1777-1963 or use the U.S. Newspaper Directory to find information about American newspapers published between 1690-present.
Illinois Digital Newspaper Collection - Over 100 newspaper titles and trade journals, including the Daily Illini (1874-1975), The Champaign County News (1902-1916), The Champaign Daily News (1895-1919), Urbana Daily Courier (1903-1935)
Illinois Online Historical Newspaper Summary - Compilation of online historical newspapers available in Illinois from national, regional, and local digitization projects. Of special note is the list of titles available at the county level through local public libraries and historical societies. 
The News-Gazette - Full-text articles of local news, June 1997 to October 13, 2019
University of Illinois Historical Newspapers Online - Thousands of historical newspapers in digital format including U.S., Illinois, and international titles. (while many of these papers are freely available some do require a UIUC login)
Public Records
Champaign County Assessment Office - Property record search 
Champaign County Clerk - Certified copy of vital records available for a fee (non-certified copies can be found at the Champaign County Historical Archives) 
Champaign County Circuit Clerk - Access to traffic, civil, criminal, small claims, probate, city ordinance, and conservation records 
Champaign County GIS Consortium Interactive Public Map - Interactive map of Champaign County
Champaign County Recorder of Deeds - Access to documents reflecting chain of title to land within Champaign County
Federal Land Patent Records Site - Live access to Federal land conveyance records for the Public Land States, including image access to more than five million Federal land title records issued between 1820 and the present
For Teachers 
American History Teachers' Collaborative - lesson plans, local primary documents, and examples of best practices from a central Illinois collaborative led by the Urbana School District
DocsTeach - ready to use tools for teaching with documents prepared by the National Archives
FamilySearch Affiliate Library Services
The Champaign County Historical Archives is an affiliate library of the FamilySearch's Research and Library System. This designation means library patrons have expanded access to FamilySearch's image collections that contain billions of birth, marriage, death, census, land, and court records from over 130 countries. [in-library use only]
How to Find Digital Images on FamilySearch (PDF)
Note: Some digital images may have privacy, copyright, contractual, or other restrictions that limit access. If such restrictions apply, a notification will appear.
Not finding what you're looking for?
Phone: 217-367-4025
archives@urbanafree.org