Submitted by

Local History a...

on September 1, 2020 - 3:01pm
While newspapers have changed over the years, there is one thing that remains the same, advertisements. Below are ads featured in the Urbana Courier from a hundred years ago.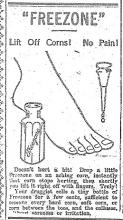 This Freezone ad is from the August 6, 1920 edition of the Courier.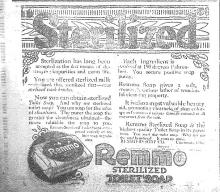 This ad for Remmo Sterilized Toilet Soap is from the July 2, 1920 Courier. Since this ad is of a lower quality, a transcription has been provided for ease of reading.
Sterlization [sic] has long been accepted as the best means of destroying impurities and germ life.
You are offered sterlized [sic] milk, sterlized [sic] this, sterilized that – even sterlized [sic] tooth brushes.
Now you can obtain sterlized [sic] Toilet Soap. And why not sterlized [sic] toilet soap? You use soap for the sake of cleanliness. The purer the soap the greater the cleanliness obtained – the more valuable the soap to you. Remmo Sterilized Toilet Soap is composed entirely of the best soap ingredients.
Each ingredient is sterilized at 198 degrees Fahrenheit. You secure positive soap purity.
Remmo Soap gives a creamy luxurious lather of wonderful cleaning property.
It is also a most valuable beauty aid, promoting clearness of skin color and softness of texture through the removal of all impurities from the skin.
Remmo Sterlized [sic] Soap is the highest quality Toilet Soap in its purest form. You must use toilet soap. Why not use the most beneficial? It costs no more.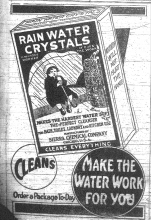 Rain Water Crystals ad is from the July 8, 1920 edition of the News-Gazette.
A Google search of both of these products yielded few results. This leads me to believe that they are no longer available for purchase or that retail of these products isn't widespread. However, these products live on in their advertisements of the past.
I look forward to sharing additional historical advertisements with you. Stayed tuned!
- Shalini Smith
  Archives Assistant