Submitted by

Local History a...

on June 25, 2019 - 3:39pm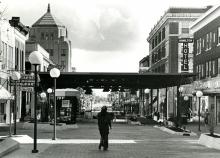 Summer is here, which has brought extra life to downtown Champaign. The warm weather means you can sit outside at bars and restaurants, see live music on the street, and attend a number of festivals. One thing you won't find though is a pedestrian shopping mall. That version of downtown is a thing of the past, from 1975-1986 to be precise. This blog post is a walk down memory lane, or Neil Street rather.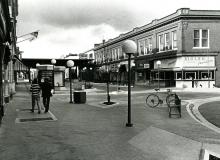 The idea of a pedestrian mall in downtown Champaign was considered on three different occasions: in 1959 when Country Fair Shopping Center opened, in 1964 when Lincoln Square opened, and finally in 1972 when Market Place Mall was in the works. Each time the concern was that the other shopping malls would draw business away from downtown. A pedestrian mall could revitalize it.  However, the first two plans did not gain sustained interest and were subsequently abandoned.
The plan that finally became reality was presented to the Champaign City Council by a group of local businessmen on January 30, 1973. The estimated cost for the open-air mall was $710,000, which would be shared by the downtown merchants and the City. The mall would cover Neil Street from University Avenue to Church and Main streets and include sections of both Taylor and Park streets, as well as the south sides of Church Street west to Randolph Street and Main east to Walnut Street.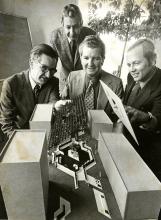 The proposed mall was designed by Dewitt-Amdal and Associates of Decatur, the designers of that city's successful downtown mall. Its focal point would be a covered pavilion at the intersection of Neil, Park, and Taylor streets with a sunken amphitheater. Brick and textured concrete would replace streets and sidewalks. The space would include trees, concrete planters, benches, globe street lights, and display kiosks that could be rented by local retailers. A speaker system would also be also installed. The design was meant to create a shopping mall atmosphere and accommodate special events.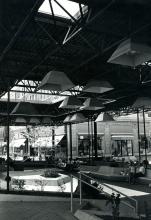 The proposal also included three circulation changes to move traffic around the mall. They included removing on-street parking on Walnut Street to allow one-way, northbound traffic; allowing two-way traffic on University between State and Elm streets; and removing on-street parking on Main/Church streets between Walnut and Randolph. Of these changes, only the third was implemented. It took two bidding sessions for the City to approve a construction company for the project. On October 8, 1973, Neil Street was closed and work on the mall began. Throughout construction, plans for a grand opening date was moved three times due to various labor disputes and material shortages. The final total cost of the mall was $887,000. The Downtown Champaign Mall Grand Opening Festival eventually took place May 2-10, 1975.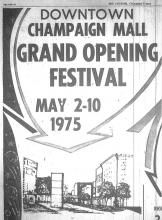 Initially, the effects of the mall seemed positive. Merchants claimed that business had greatly improved the first year of its opening. Events held there included a weekly farmers market, auto shows, arts and craft shows, and holiday events. However, before long the negative effects began to surface. One of the main concerns was traffic circulation. There was no easy way through the area with the mall blocking the main streets downtown. Businesses on the mall began to suffer and their owners blamed lack of traffic access to their stores.
By 1981, people began arguing in favor of removing the mall to reopen Neil Street. Some downtown property owners were for it, some against, and others unsure. Multiple public hearings were held over the next few years for residents to voice their concerns. Task forces and committees were formed to investigate the problems and find a solution. In the end, the mall was removed. Neil Street was reopened on November 28, 1986.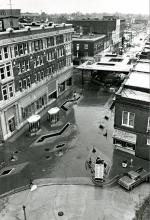 Besides some remaining globe lights and planters, the downtown Champaign mall is nothing more than a memory now. Whether it was the traffic problem or the opening of other shopping malls in the area that caused it to fail is uncertain. One thing is for sure, a downtown cannot thrive if people do not gather there. So text some friends and go see a local band play on a street corner! Enjoy your summer in downtown Champaign.
-Erica S.
Archives Assistant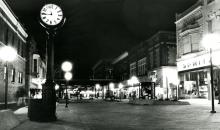 Also, check out our new Flickr photo album: Champaign Downtown for more historical photographs. 
Sources:
Champaign Pedestrian Mall: a history by Candida Neal.
Courier, April 27, 1975
Courier, October 2, 1975
Courier, December 14, 1977
News-Gazette, January 31, 1973
News-Gazette, October 1, 1981
News-Gazette, December 17, 1985
News-Gazette, November 28, 1986