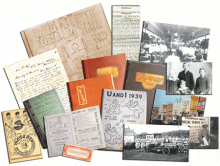 The Champaign County Historical Archives has a diverse array of resources to aid in research on local history and genealogy. They range from databases that provide access to genealogical resources worldwide to unique collections that document local life from the 1830s to the present day. The majority of these materials are cataloged in Local History Online. 
Books & Journals | Newspapers | Directories | School Yearbooks | Records & Manuscripts | Photographs | Maps | Oral Histories | Local Organizations Newsletter Collection
Books & Journals
Over 25,000 books and journals available and searchable through the Local History Online catalog. These include an extensive collection of books on Champaign County and other Illinois counties, as well as publications about States that served as migration routes to Champaign County. We also collect family genealogies and subscribe to over 100 genealogical and local history journals.
Newspapers
A comprehensive collection of titles from Champaign County, spanning the years 1852 to the present. Most are available on microfilm. Click here for a PDF file of the complete list of newspapers and date ranges available at the Archives.
For electronic access to historical newspapers visit our Research Tools page. 
Directories
An extensive collection of directories for Champaign County, including city directories; phone books; and criss-cross directories.
School Yearbooks
Nearly complete sets of Champaign County high school yearbooks, and selective issues from area middle and elementary schools.
Records & Manuscripts
Champaign County Records

County Court and Circuit Court Records

City of Urbana Municipal Records

Microfilmed and indexed local government records spanning the years 1855 to 2001. 

Records from community institutions, businesses, and individuals.

These materials document businesses, local chapters of social organizations, and offer glimpses of local life dating back to the mid-19th century through diaries, correspondence, and other personal papers.
Photographs
Over one million photographs of local people and locations, dating from the mid-19th century to the present. Selected images have been digitized and made available online through our Local History Online catalog and our digital collections.
News-Gazette Collection (1974-2002)
McCandless Photography Studio Collection (1965-2001)
Pilon Studio Collection 
Postcard collections with images documenting Champaign County and the University of Illinois . 
Maps
Over 500 historical and current local maps, plat books, and atlases are available for research.
Oral Histories
Over 250 oral histories with topics that cover the length and breadth of the history of Champaign County and its communities. Richly represented within the collection is the rural life and experience of the African-American community. Additionally, many recordings and their corresponding transcripts (when available) have been digitized and made available online.
Local Organization Newsletter Collection
A growing collection of over 700 newsletters distributed by local community organizations, including schools, churches, and a variety of non-profit organizations.