Get in the groove with the Library's new circulating Music Equipment Collection!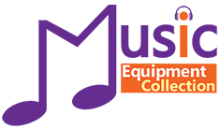 Are you curious about learning to play an instrument? Are you a practicing musician? Guitars and amplifiers will help you decide which instrument is right for you, help you with home recording, or let you 'test drive' an item you might want to purchase later. More instruments and equipment are coming soon including electronic drum tools, guitar effects pedals, digital music tools and more. If you have ideas about what the Library can provide to musicians of all levels, please let us know!
These materials may be checked out at the circulation desk with a library card.
Items can be checked out for two weeks, with up to five renewals unless there is a request by another borrower.
If an item is checked out, please place a hold or ask a staff member to help you.
Please return items to the circulation desk.